The First Annual AJFF: Goldie Hawn, Part Two
Tonight we'll take a look at the second major role in Goldie Hawn's thirty-eight year film career.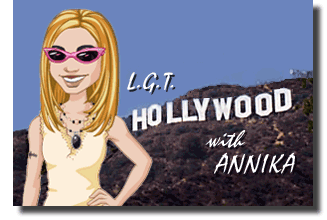 There's A Girl In My Soup, 1970
Girl starred the late, great comic genius Peter Sellers, and Goldie's name appeared above the title for the first time. This import was directed by Roy Boulting, a veteran of largely forgettable British movies. Coincidentally, he and Goldie had the same birthday.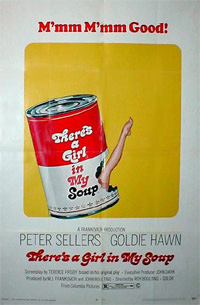 On the surface, There's A Girl In My Soup shares essentially the same plot as Cactus Flower. Both are May-December romance / love-triangle comedies based on stage plays. Interestingly, Roy Boulting was involved in a real life May-December romance for eleven years with former child star Haley Mills (The Parent Trap, That Darn Cat!). She was 33 years younger than him.
In Girl, Goldie plays a 19 year old American hippie chick, living in London with a skeevy drummer. She gets tired of being passed around among the drummer's friends like a tray of tea cakes, so she decides to move out after a chance meeting with a 41 year old tv personality, played by Sellers. The tv personality is a self-absorbed and aging Alfie-like swinger, coming to grips with the handfuls of hair he's beginning to find in his brush every morning.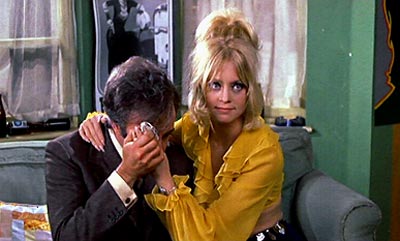 While the movie starts out prominsingly, Goldie's performance was ultimately inconsistent, a sign of weak directing. There is no chemistry between her and Sellers, who mails in the most colorless performance I've seen from him. None of the comic improvisation he was known for is on display here. I think the character was too constricting for him. Here's what Goldie told Larry King about working with Sellers:
HAWN: Peter Sellers was great to work with. A lovely man. A little bit crazy . . . It was sort of balancing a very delicate spirit on a needle. You know, because you never know where he was going.

But I gave him a birthday party once, and he said to me, you know, Goldie, I'll never have a home like this. I'll never have a house like this, and I would like a piece of me in your home. And he sent me a French armoire, and I still have it. That was after he ate his birthday candle, which is a whole other problem.

KING: Was he a genius?

HAWN: Yes, he was. He definitely was. He was completely in his moment, in his truth, at all times there was never a break. He was able to witness how funny he was, and yet not have any control over his ability to -- inability to stop laughing at himself.

We would have to break for lunch sometimes, because we couldn't bring him back. But, you know, you couldn't get a knife in between who he was playing and his comedy and his truth. It was all there together, which is what made him a genius.
Costume-wise,
Girl
is nothing special either. The only stand-out is an avocado colored, wide-wale corduroy bikini that Goldie wears while lying on an inflatable raft. One wonders how they got her on that thing without wetting the fabric. Peter Sellers spent a fair amount of time shirtless, which was a major error by the filmmakers. His back was hideously hairy.
Predictably, after a whirlwind tour of the continent, the mis-matched lovers return to London, and reality. The movie ends the same way as Cactus Flower, but in a wholly unsatisfying way. For that reason, I give it two Netflix stars ("didn't like it").