What? Was Hugh G. Rection Unavalable?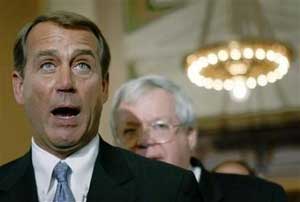 I looked all over my favorite humorous blogger sites and I couldn't find anyone who took a shot at the obvious joke. I guess everybody's too busy blogging about the cartoon rioting I blogged about ages ago, although I didn't get any awards for having done so. Do I have to do everything? Well here goes.

HOUSE GOP GETS BOEHNER
Despite stiff opposition, House Republicans selected Ohio Representative John Boehner as Majority Leader on Friday.
"This appointment might be hard-on his family, but Boehner's a real stand-up guy," said one observer. "He always seems to rise to the occasion."
Others were more skeptical. "Woody make a good leader? It's hard to say," said one deflated opponent.
Boehner was visibly excited about his new job. "I'm so pumped up right now, i can barely contain myself," he said. "I look forward to coming to work and plugging away until I'm exhausted."
Posted by annika, Feb. 5, 2006 |
TrackBack (0)
Rubric:
annikapunditry