More Fun With Brad And Jen
You've probably already heard the rumor that it was Angelina, not Brittany, who allegedly played a role in the first big breakup of 2005.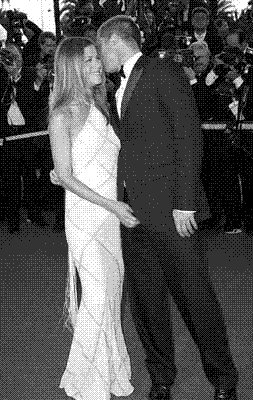 Sultry Angelina Jolie 'got under' Brad Pitt's skin while they shot a movie together last year, in a sexless but too-tight relationship that 'bothered' Jennifer Aniston, pals say.

. . .

'They did not sleep with each other,' but Pitt 'was obviously taken by Angelina.'

. . .

'He changed,' the source told the mag. 'It might have been slight, but it's noticeable. And Jennifer knew it.'

But Pitt's pals poured water on a steamy report in a British tabloid that Aniston caught the 'Ocean's Twelve' star and Jolie having phone sex, and they insisted he has always been loyal to his 'Friends' wife of 4-1/2 years.
Well, i don't know if anyone should believe those denials. Not with the exclusive evidence i just uncovered. i mean, she's obviously pissed about something.
Seriously, i don't really give a shit why they broke up and i couldn't care less who they're fucking. But i can't pass up the opportunity to work on my photoshopping skills.
Posted by annika, Jan. 12, 2005 |
Rubric:
Celebrity Watch
&
photoshopaholic