The Freaking Idiot's Guide To The Supreme Court
You ever listen to those early morning CSPAN call-in shows? What a bunch of freaking idiots.
It's like this:
Hello? Is this CSPAN?

Well, I liked that Sander Day O'Conner 'cuz she seemed like she was fair and all. And I think Bush needs to pick someone who's not all for the corporate America with all the Halliburton things and stuff.
Or the angry idiots:
She was just another right wing fascist who selected Bush and wants to roll back Medicare and Social Security with all his fascist crony corporate America and Halliburton things and stuff.
etc.
The right wing callers are no better:
Bush needs to pick somebody who's a mainstream American, like someone who hates them despicable homosexual things and stuff.
i often wonder why so many neanderthals are watching CSPAN instead of, say, Jerry Springer re-runs or those used car dealer infomercials they show on like eight stations every Saturday morning? i think it's because they have trouble figuring out the remote control and just get stuck on the channel.
In my attempt to remedy the ignorance of these people, i've prepared a pocket guide to the Supreme Court for any such CSPAN watchers who may have made it over to my blog and read this far down the page.
My handy pocket guide contains a picture of each Supreme Court justice, their name, and then a short bio. You can print it out if you'd like and refer to it whenever you want to express an opinion out loud about the Supreme Court.
Here it is. You can trust me on this stuff, i'm a law student.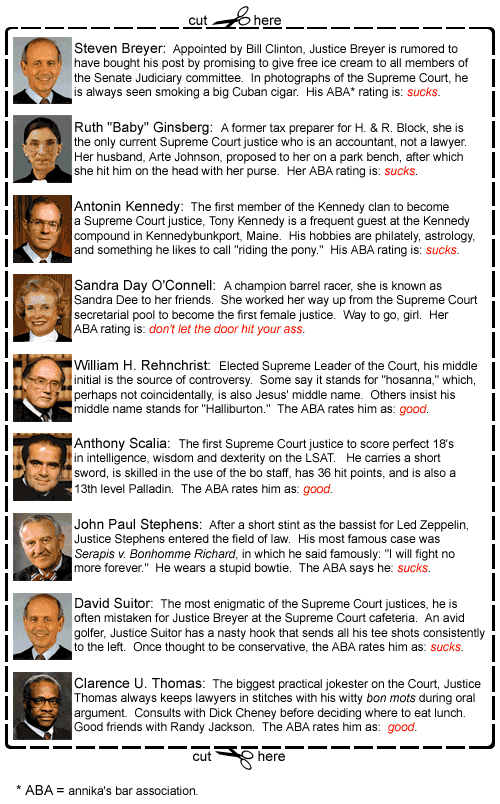 Don't forget, it's also suitable for laminating, or pasting onto the dasboard of your VW Beetle.
Glad to be of help.