How Committed A Fan Are You?
No no, i'm not expecting everyone anyone to get an annie's journal tattoo...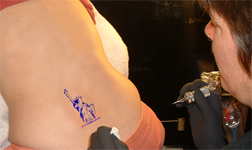 ...although i won't discourage the idea.
Now that i think of it, that would be a great way to advertise - and i need only 93 more links to pass fatbody Oliver Willis on the Ecosystem!
Posted by annika, Feb. 16, 2005 |
Rubric:
Pithy and/or Lame Thoughts
&
photoshopaholic