My Idea Is Picking Up Steam
Thanks to the Instalanche, word is getting out about my great idea. Check out this exclusive photo, from last night's Kennedy Center Honors gala, where i imagine there was a lot of behind the scenes lobbying on behalf of Sir Elton.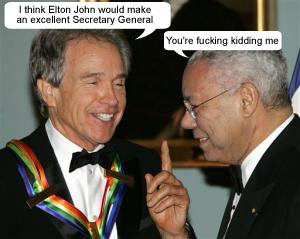 It's only a matter of time before the mainstream media picks up on this, and when it happens, i plan to take full credit, of course.
Posted by annika, Dec. 6, 2004 |
Rubric:
annikapunditry
&
photoshopaholic