New Gun Nut Progress Report III
Here's the next in my series of novice gun reviews. This post should be subtitled "Teutonic Target Shooting, The Good, the Bad and the Ugly."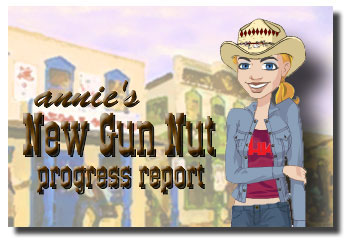 My quest for the perfect handgun to purchase started out with the 9mm Sig Sauer P226. i think you all remember how crazy i was for that gun. i'm glad it was the first pistol i ever fired because it has become the benchmark by which all others are measured. In fact Sig Sauer has reinforced my long-standing preference for Teutonic engineering. So i figured, as long as i'm test driving guns, i should check out all the German makes i can get my hands on.
The Sig's reputation for Swiss precision was not exagerrated, in my opinion. It was accurate, reliable and ergonomically pleasing. i fired three different Sigs at three different ranges and i was never dissatisfied. The gun never jammed and it always gave me tight patterns on the target.
My only problem with the Sig's design was its lack of any external safety. It seems those crazy Germans think that Sig owners should know better than to rely on a safety. Read the following sentence with a Sigfried accent: Vat vould you need zeh safety for? Eet Ees qvite zimple. Eef vun does not vont zeh gun to fire, vun does not pull zeh trigger.
The Sig does have a nifty de-cocking lever, which is a sort of safety. It allows you to lower a cocked hammer without the gun going off. Also, the first trigger pull is very stiff when the hammer is uncocked. That acts as an additional sort of safety, and i have decided that whatever gun i purchase should have that feature.
i know that no safety is 100% reliable. But i'm still not comfortable with the idea of owning a gun that does not have an external lever that i can switch on to give myself that added peace of mind. But i loved the Sig so much that i figured i might have to compromise and live without a safety lever.
Interestingly, there is another manufacturer whose motto happens to be "No Compromise." But i'm getting to that.
If the Sig is "The Good," in the above mentioned subtitle, then i would have to say that the famous Glock 17 is "The Bad." How can i put it nicely? This gun sucked. i was prepared not to like the Glock, because my first introduction to it was a post by Publicola about the LAPD's decision to allow officers to start carrying the Glock 22. Publicola alerted me to the Austrian gun's unfortunate, albeit rare tendency to blow up when shooting higher powered cartridges.
Additional research led me to another post, at Says Uncle, about an unusual ailment that sometimes afflicts police officers called "Glock-leg." And if that wasn't enough, the first time i saw a guy shoot a Glock at the range, i was surprised to see the ejected cartridges hitting him square in the forehead. You'd think Glock would have fixed that problem. Maybe that's why those gang bangers shoot the thing sideways. (When i fired it, one of the hot cartridges got stuck between my safety goggles and my face!)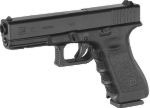 i felt i couldn't do a thorough job of pistol shopping if i didn't try a Glock at least once. So i rented the Glock 17, which is their 9mm pistol. i didn't want to try it in my favorite caliber, .40 S&W, because of the whole exploding Glock thing. From the start i didn't like it.
The first thing that struck me was the overall cheapness of the materials. It's plastic, sure, but it feels like the kind of lightweight plastic that toys are made out of. The famous Glock trigger safety that i'd heard so much about turned out not to be sophisticated at all. It's simply a plastic lever that prevents the trigger from being pulled back unless you actually pull back on the trigger. Doesn't make a hell of a lot of sense to me.
The Glock has no external safety lever and it's "double action only," which i hate. That means it doesn't have a hard trigger pull on the first shot, like the Sig, and you can't cock or uncock the gun for single action shooting since it doesn't have an external hammer. It's basically point and shoot, no nonsense.
Ergonomically, it never felt good either. My finger didn't feel right on the trigger, like the gun was at the wrong angle for my hand. i like to pull the trigger with the first joint of my index finger, but on the Glock, it felt more natural to pull the trigger with my fingertip. And the trigger pull itself was way too light, which i can't believe is very safe.
Accuracy at 25 yards was off. My theory is that the Glock was too light. i think i pulled my shots to the left because i concentrated on holding the gun steady through the recoil. i don't think the gun is inherently inaccurate because my patterns at 7 yards were very nice. Sightwise, i'm not impressed either. It uses a vertical two dot system that i found difficult to visualize consistently.
Needless to say, the Glock did not make my shopping list. i'm sure it's a fine and reliable gun for military and police use, but it's not for me.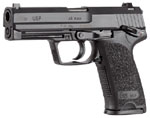 Like Goldilocks, i found the third gun in my Teutonic trifecta just right. i'm talking about the Heckler & Koch Universale Selbstladepistole. Matt thinks this gun is ugly, but it met all of my requirements in a pistol. It has an external safety and decocking lever. It's traditional double action. It looks like it's well made, as i'd expect a German product to be. It's incredibly accurate at 25 yards. It has the three dot sight i prefer. It never jammed. It looks mean. It's very comfortable to hold. And it's light, but not too light.
But that's not all. The H&K also surpassed my requirements in a couple of areas. There's some sort of patented anti-recoil thingamabob built into it, which noticeably reduced the recoil of the .40 S&W version i fired, making it feel more like a 9mm. And although the frame is plastic, it's a tough thick polymer that feels solid compared to the Glock. And the external safety works the same way as a 1911's so i won't have to relearn the action if i ever buy a .45.
i shot a hundred rounds through the USP, and those were my best targets ever. i think the difference was the combination of the light weight* and the anti-recoil thingamajig. i found that i could hold the pistol steadier for a longer time. It's amazing the confidence you can get when you fire a quality firearm. It makes you want to practice more.

Look at the picture. Mind you, i'd never shot a pistol before August 13, 2005.
A is all head shots at 25 yards, indoors.
B is five shots at 25 yards aiming for the masking tape. It's about a 2.5 inch grouping.
C is the first shot in that five shot grouping at 25 yards. Imagine my surprise: when i aimed at it, i hit it!
D is the rest of the 50 round box, mostly at 15 yards, and about ten of them at 7 yards. One magazine of ten rounds was shot at 15 yards without wearing my prescription glasses because i decided i should practice without them a little. Those were the outlying holes, but as you can see, only one in the 8 ring.
That's why i love the H&K. It's my new favorite. i will continue to sample other autoloaders, but the Universale Selbstladepistole is now the one to beat, in my book.
Now if i can only find a range that rents Walthers, i can complete a Teutonic grand slam!
_______________
* Without their clips, the Sig Sauer P226 weighs 28.3 ounces, the H&K USP is 27.9 ounces, and the Glock is 21.2 ounces.
Posted by annika, Sep. 15, 2005 |
TrackBack (1)
Rubric:
New Gun Nut Stuff