Best Pickle Discovery Of The Year
Oh Baby Baby, how was I supposed to know...
...that these plain-wrap brand pickles would be so dang tasty.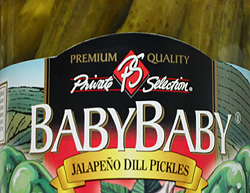 I got them at Ralph's.
N.B. This post should in no way be construed as having been inspired by, or being in any way related to the previous post.

Posted by annika, Apr. 17, 2008 |
TrackBack (0)
Rubric:
Pithy and/or Lame Thoughts