Google TV Is No Hoax
I got Google TV, and they're paying me 40 large just to watch it.
Here's a screencap: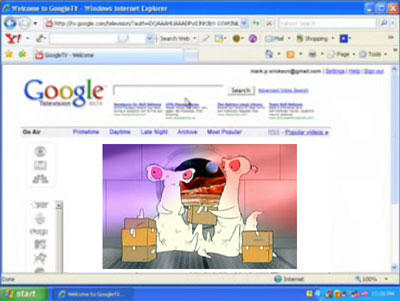 The only program available is some weird show with two aliens stacking boxes. It hurts my eyes a little, but it is kind of addicting. And anyways who cares, I'm getting paid 40 big ones to watch.
[I realize that by combining two extremely obscure references in the same post, the population of readers who will get it is basically nil.]

Posted by annika, Jan. 29, 2007 |
TrackBack (0)
Rubric:
The Huh? Files