The Audacity Of Hope (Arkansas)
This was unexpected.
Hillary says, "me too."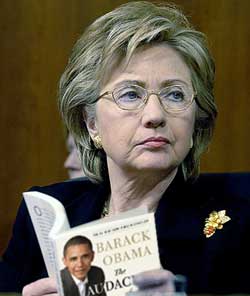 Not only does Hillary announce with a video, just like Bronco, she even got the AP writer to include a link to her website, just like Bronco.
Notice that the video shot is not wide enough for you to see the rug? That's because Bronco Bomber pulled it out from under her on Tuesday.
Posted by annika, Jan. 20, 2007 |
TrackBack (0)
Rubric:
annikapunditry