Big Day In Rock & Roll History
Today is the 37th anniversary of Elvis Presley's 1968 Comeback Special, a legendary event in music history.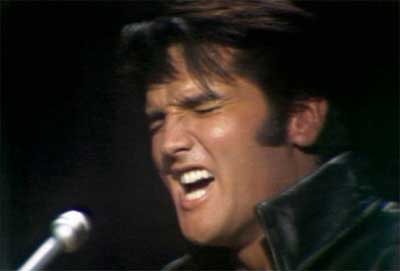 From NME.com:
By the mid-'60s, The King was washed-up, so his detractors claimed. The world was being wowed by the experimentalism of The Beatles, the Stones' dirty rock'n'roll, the string-drenched sonic onslaught of Phil Spector. Presley was a distant memory, an anachronism, remembered mainly for his decline from hip-swivelling slick-haired rock Adonis to slightly campy balladeer sleepwalking through a string of bad movies. Then, in 1968, after years absent from live performance, Elvis decided to put on a show in Las Vegas, go back to his musical roots, perform some rock'n'roll standards with a stripped-down band, recapture the raw energy that characterized his '50s heyday.

It should've been a disaster - like, who was this old nark with his bad hair and blues standards? But no! He gathered together a coterie of brilliant musicians, including ace guitarist James Burton, slung on a leather jacket and a six-string, and got up onstage and blew everyone away.

He kicked off with 'Blue Suede Shoes', went on to do 'The Wonder Of You' which stayed at Number One in the UK for six weeks, joked with the band, improvised, messed around, looked cool, and won millions of fans back. From then on, until his death in '77, he remained The King, and his crown was never threatened again.
Posted by annika, Dec. 3, 2005 |
TrackBack (0)
Rubric:
Arts
&
History