Flux Capacitor... Fluxing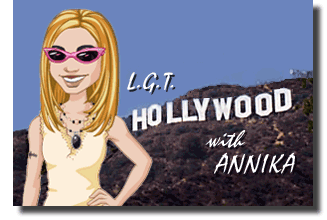 i took a mid-week study break this afternoon and saw Aeon Flux. This is an interesting movie to review because audience expectations can be all over the map. The original MTV cartoon has a cult following, so i imagine those viewers would be the most discerning. i liked the original cartoon, without being obsessed by it. i wanted to see it because i like sci-fi post-apocalyptic shit, especially with a kick-ass heroine. My boyfriend, of course, went along with the hope of seeing some t&a.
i would give Aeon Flux a solid three stars (liked it) on the Netflix five star scale. i wasn't expecting greatness, only coolness, which it delivered.
My first introduction to Charlize Theron was The Legend Of Bagger Vance, which i saw in a hotel room on free HBO. i still felt ripped off. She was horrible in that lemon of a movie. The second time i saw her she was partying with an apple, and the third time i saw her she was partying in orange.
But Charlize is a big star now, because she's won an Oscar. She deserves another nomination for having never blinked once during all 93 minutes of Aeon Flux. Nobody blinks in this movie, check it out, it's freaky.
The plot is this: Aeon Flux is a 25th century assassin, and part of a high-tech underground rebellion against a mildly oppressive government a la Logan's Run without the chanting crowds. She's sent on a mission to kill the head honcho, but once she gets there, she finds out that things are more complicated than they at first seemed. They never are in these types of movies. But thankfully the plot wasn't too convoluted for my finals-fatigued brain to follow.
There are at least two requisite bitch brawls, which aren't too bad, action wise. There's minimal reliance on sci-fi gadgetry, which i count as a good thing. The atmospherics can't quite match up to the original, but then the original is a cartoon. You have to inject some humanity into a live-action remake or it would be unwatchable. Still, i think this version captures enough of the original's dreamlike weirdness to satisfy most non-purists.
i wonder where the exteriors were shot. There's a nice balance between futuristic cold concrete and manicured gardens, so the background never looks too sterile. The climactic scene features gently falling cherry blossoms, which was a nice touch.
But my favorite part was the costumes. Chris didn't think there was enough skin, but i have only two words to say about the fashions: wedge heels. i think you know how i feel about this year's must-have boot. They're on my Xmas list. Charlize shows that you can run in them, snap a dude's neck like a twig in them, and still look good in a crouch. And she does do a lot of crouching, but why not, her ass was made to be in spandex.
Charlize spends most of the time in Aeon's signature black bodysuit, but her grand entrance is in a 25th century hooded leather suit that's too hot to describe, and the stills do not do it justice. She also wears a very svelte white number in one scene, that i like a lot. But above all else, it's the boots that make this movie, baby.
So, to sum up: i liked it. It's a little too short for me to recommend paying full price though. See it on matinee like i did, or wait for the DVD.
Posted by annika, Dec. 6, 2005 |
TrackBack (0)
Rubric:
Let's Go To Hollywood