A Weird Dream i Had
Remember that Seinfeld episode where Jerry wrote down a joke he dreamed up in the middle of the night? Then he couldn't read what he had written and when he finally figured it out, it wasn't funny at all. That happens to me too.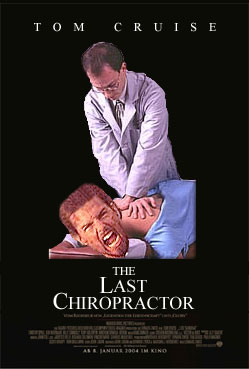 Like last night, for instance. i had this dream about a new Tom Cruise movie called The Last Chiropractor. The promo was something like:
[cue announcer's voice]

Years of sleeping on Japanese bamboo mats have led Tom Cruise to his greatest role as...

...The Last Chiropractor!

[cue Tom Cruise's voice]

"You don't know the history of myofascial release therapy, I DO!"

[cue announcer's voice]

In the face of musculoligamentous sprain/strain...

In the sacroiliac of One Man...

Lies the Soul of a Warrior.

Once he risked his life for honor and country, but now his world has changed. Subluxation has replaced full cervical range of motion, and in the place of freedom and valor, he only finds chronic radiating pain, especially at levels C5-6 and L5-S1.

Thrust now into harsh and unfamiliar territory, with his life and perhaps more important, his spine, in the balance, the troubled American soldier finds himself at the center of a violent and epic struggle between the soft tissues of his neck and back, with only his sense of honor and a thorough knowledge of flexion/distraction technique to guide him.

Tom Cruise is...

...The Last Chiropractor!
Crazy huh? i'm telling you, i really did have a dream about that shit.
Posted by annika, Nov. 27, 2005 |
TrackBack (0)
Rubric:
The Huh? Files