Various Disconnected London Thoughts
England will save herself by her exertions, and Europe by her example.

―William Pitt
i am well familiar with two of the tube stops that were blown up today. When i studied in London i often did research at the Institute of Advanced Legal Studies, located at Russell Square. Some good friends of mine rented a flat only a block or two from the Edgeware Road station. When my parents came to visit me for a week, they stayed in a hotel by the Edgeware Road stop.
When i lived in London, i used the tube so much that i was unable to get around on the surface. i knew directions only by looking at the tube map. i lived in the West End (this was my flat) and took either the District Line or the Picadilly Line twice a day. Although there was still some residual danger of IRA terrorism, i never encountered any problems. i think there was only one bombing while i was there, and i doubt anyone was killed. Interestingly enough, if i'm not mistaken, i think it occurred up by Edgware Road, too.
***
During the first London Blitz of August 1940 to May 1941 over 43,000 civilians died and 139,000 were injured. The picture below was taken on December 29, 1940, at the height of the blitz. During the V-weapon blitzes of 1944, about 8800 civilians died. One might think that the British people will be strong now, as they were during WWII. But they were united then, and now i'm not so sure. They have a sense that this is America's war, and seem to forget that we once thought of WWII was their war. Until we fought side-by-side with them to victory.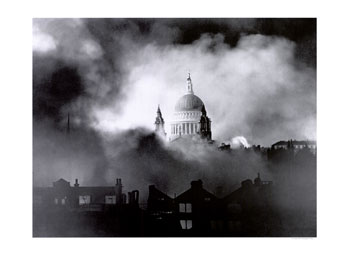 Almost sixty-five years ago to the day, Winston Churchill said these words:
We await undismayed the impending assault. Perhaps it will never come. We must show ourselves equally capable of meeting a sudden violent shock or what is perhaps a harder task, a prolonged vigil. But be the ordeal sharp or long, or both, we shall seek no terms, we shall tolerate no parley, we may show mercy--we ask none.
Britain stopped Hitler's invasion, Operation Sea Lion. That fight was comparatively easy, when you consider that today's invaders are already inside Britain and there are no uniforms to know them by. They got there through the EC's open borders. And their presence is protected by political correctness.
Much as i love Tony Blair, i wonder if he could ever show the same toughness as Churchill. The terrorists are calling this World War III. When will we? When our president said "Bring 'em on," he was pilloried. Yet he spoke the only language tyrants and would-be tyrants understand.
Britain was once a great empire. They bowed to no one. (Except when they fought us.) Now what are they? Half the country embraces moral relativism, but in the pubs, you still can hear the voice of the working class. They're anti-Europe, proud of their heritage as well as their football teams, and i'll bet they're pissed tonight. (In the American sense of the word, if not the British.) Britain's soul is in a state of flux, and i hope the side that understands the epigram i chose for this post will win out. Perhaps today's attack will wake them up.
***
i woke up to the news of the bombings on the radio, and immediately switched on CNN, who i believe is still the best at covering breaking news, especially international. However, after i criticized Fox News only a few days ago, i have to say that Fox's coverage was superior, at least this morning. That's probably because they relied on a feed from Sky News.
***
i'm so exasperated by the left that i don't even have the stomach to read about their predictably defeatist attitude toward these attacks. i don't have the energy to rant about them right now. It should suffice to say that the only acceptable reaction to the bombings is, i believe, anger. The only acceptable response is to seek vengeance on those responsible and their sympathizers. i believe the time for a measured and proportionate response is long past, if it ever existed.
Michael Savage, whom i dislike by the way, did have an interesting opening to his show today. He played audio from a jihadist "rally" that took place in London only two months ago. The crowd was led in various chants that were chillingly prescient. "Death to America." "Death to Tony Blair." "George Bush you will die." etc. etc. etc. This was another unheeded warning. Unheeded because of political correctness.
It seems to me that if our enemy is bold enough to profess their wish to kill us openly, and we do nothing about it, we should not be surprised when they do kill large numbers of us. Savage is an extremist and he gives conservatives a bad name, but when he predicts that the day is coming when all European Muslims will be rounded up and interned, i wonder if he's right. Or, if he's not right, i wonder if he should be right.
And how could such a disturbing pogrom be averted? Not by pulling troops out of the Middle East. Not by abandoning Israel to the wolves. No, not even by signing the Kyoto treaty. It can only be averted by creating Democracy in the center of the storm. A stable and democratic Iraq is the best hope for the survival of Western Civilization.
***
One other London observation just came to mind. When i was there, i never understood the romantic fascination a lot of people had with "arab men." Especially the British women. They talked about them like we sometimes do about latin men over here, like they were these incredible lovers. More than once in a pub, i heard stories about rich arab men who came in and offered women like a million dollars to go back to Saudi Arabia to be one of their wives. i didn't get it. Chicks talked about it like they almost wished it would happen to them. The thought disgusts me.
Posted by annika, Jul. 7, 2005 |
TrackBack (0)
Rubric:
annikapunditry