Wednesday Is Poetry Day: Wordsworth
The lawyer i work for at my summer job is a brilliant and very literary guy. He makes me realize how little i really learned in school about literature and poetry. He can recite T.S. Eliot and Keats from memory; it's quite impressive. But he has a Masters in English, which i don't have.
Today we had a long conversation about art and poetry and he mentioned that he loved Wordsworth. i said that the only poem i remembered by Wordsworth was one about London, which i discovered while i lived there for a short time. He said "oh yes, the sonnet 'Composed on Westminster Bridge'" i said, "um yah, that one." He then recited it from memory.
Way to make me feel uneducated, dude.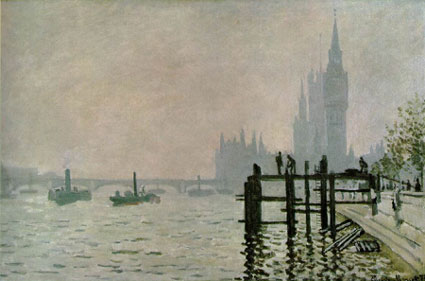 Composed Upon Westminster Bridge, September 3, 1802

Earth has not anything to show more fair:
Dull would he be of soul who could pass by
A sight so touching in its majesty:
This City now doth like a garment wear
The beauty of the morning; silent, bare,
Ships, towers, domes, theatres, and temples lie
Open unto the fields, and to the sky;
All bright and glittering in the smokeless air.
Never did sun more beautifully steep
In his first splendour valley, rock, or hill;
Ne'er saw I, never felt, a calm so deep!
The river glideth at his own sweet will:
Dear God! the very houses seem asleep;
And all that mighty heart is lying still!

i love that poem because it's as atmospheric as the Monet i posted up above, which i saw in person at the National Gallery. "This City now doth like a garment wear/ The beauty of the morning; silent, bare." Reminds me of so many lovely mornings i spent walking to class through the ancient gray city. Just lovely.
Posted by annika, May. 25, 2005 |
Rubric:
Poetry