The Contender Final Episode
This was just an excuse to mess around on photoshop.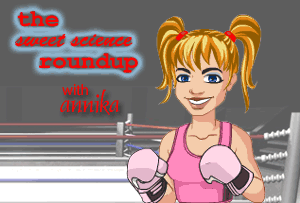 i watched the final episode of The Contender tonight, although i missed the undercard because of American Idol. The bout between Sergio "Latin Snake" Mora and Peter "Pride of Providence" Manfredo was one of the best fights i've seen in a long time.
The great thing about tonight's episode was that it was unedited, which means real boxing. No slow-mo, and minimal family reaction cut-aways make for better sports action. They should have cut Stallone's mike though. He kept repeating himself. He alternated between the same two lines for seven rounds - it was either "Whoa!" or "there's got to be a re-match." He actually started calling for a re-match in the middle of the second round. Sly needs to worry more about whether the show will be renewed. Ratings apparently were less than expected and putting the final up against tv's most popular show AI, didn't help.
Sergio Mora won the match, and the million dollars. i was impressed by him last week when he advanced to the final with a win against Jesse, whom i had expected to go all the way. Sergio fights with real attitude and he's damn quick. Tonight, when Peter had completely run out of steam in the final round, Sergio was still showering combinations on his head like it was the first.
Peter seemed more of a hard-headed slugger and had Sergio backed against the ropes for much of the fight. Sergio's temple opened up early and looked ugly. But Peter wasn't slowing him down. Sergio clearly was the better conditioned fighter, and if he didn't move as much as i had expected, he still punched almost continuously.
There was an episode of smack talk in one of the middle rounds, when Sergio turned his head to mouth off at Peter's corner. Since it wasn't broadcast live on the West Coast, they cut out the audio and i don't know what he said. But it seemed like a dangerous move, leaving yourself unprotected against a guy like Manfredo, even for a moment. i think Sergio has a little too much attitude for his own good, and that may end up hurting him down the road. He did show class after the fight by apologizing to the other corner and giving Peter the props he deserved.
One of my ex's, Tommy, was an amateur boxer who taught me how to score a fight. i think you get much more out of watching boxing if you make an effort to keep score. i had the match much closer than the judges did. According to my card, the fighters split the first six rounds, and Sergio took it all by showing more aggressiveness and energy in the final round. i had Sergio 67 to Peter 66.
And as for American Idol, we'll find out who that champ is tomorrow. My pick is Carrie Underwood, but rumor has it that Bo's got more fans. It should be interesting.
Matt has a Contender recap too.
Posted by annika, May. 24, 2005 |
Rubric:
Sports