She Was Gonna Do What They Said Cain't Be Done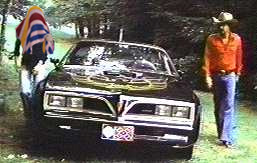 There's a lot we don't know about that runaway bride from Atlanta. More will come out in the next few weeks, and i'll bet you, say $80,000, that her little trip involved a dude in a black Trans-Am. The clue is right there in the song:
The boys are thirsty in Atlanta and there's beer in Texarkana.
And we'll bring it back no matter what it takes.
"Atlanta." See? Coincidence? i think not.
She was westbound and down. Seriously, i'm tellin' you there was a dude involved that we haven't heard about yet.
More: "US, Italy Disagree On Runaway Bride"
Update: i was right.
Posted by annika, May. 3, 2005 |
Rubric:
The Huh? Files