Happy St. Patrick's Day
i notice that a few bloggers have posted pictures of their favorite Irish beverage in celebration of today's holiday.
Eric posted about Caffrey's, a brew i have not yet sampled.
Preston posted about that old standby, Guinness, a brew that i am all too familiar with. And if Matt were still posting regularly, i know he'd put up a Guinness photo, too.
Here's my Irish brew of choice: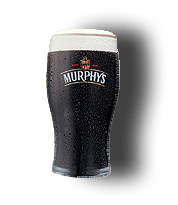 Slightly bitter, a hint of cocoa, very complex on the palate. Murphy's Stout makes Guinness taste like water by comparison.
No beverage pics at Sheila's but she's got a bevy of great St. Patrick's day posts, as i expected. i'm still eagerly awaitin' to see what the Irish Lass will post. And Happy Anniversary to Dizzy Girl Gennie and her hubbie!
Update: Ted wants a Corona. A Corona?! i won't even drink that shit on cinco de Mayo.
And the best St. Patrick's Day gift of all: bad-ass John is back! With a post on his drink of choice to boot!
Now, if we could just work on Bill at Bloviating Inanities.
Update 2: i almost missed Michele's Guinness Ice Cream recipe until just now. Don't you miss it.
Posted by annika, Mar. 17, 2005 |
Rubric:
Arts