Useless Friday Ego Trip
Once again, in lieu of actual blog content, it's time for Friday photoshopped self-promotional nonsense.
This week we examine: Annika Gyrl: The unauthorized annikabiography.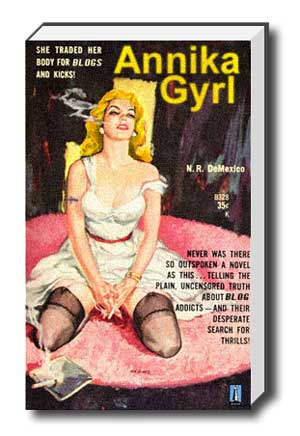 List Price: .35¢
Price: .10¢ & Eligible for FREE Super Saver Shipping on orders over $25.
You Save: .25¢ (71%)
Availability: Usually ships within 24 hours from Annikazon.com
Want it delivered Monday, March 21? Order it in the next 15 hours and 44 minutes, and choose One-Day Shipping at checkout.
93 used & new from .01¢
Edition: Hardcover
Average Customer Review:

based on 3 reviews
Were this thing ever to see print, it would surely be filled from end to endpaper with the most shocking debauchery of a type that would cause Mr. Verdana to blush, Ms. Arial to shield her eyes, and both Mr. Times and Mr. New Roman to run for cover.
Posted by annika, Mar. 18, 2005 |
Rubric:
photoshopaholic