Fourteen Minutes To Go!
Yesterday they mentioned my idea on MSNBC, and now today they're talking about me on Fox News! Click on the picture to see the clip.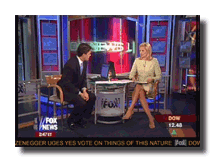 Fame! i wanna live forever!
Remember the annika's Blogversary Poker Party is Wednesday night at 7:00 p.m. California time.
remember... remember... remember...
Posted by annika, Mar. 8, 2005 |
Rubric:
On The Blogosphere
&
photoshopaholic