Softcore Robotica
Pollhost censored me.
If you click on "My most controversial poll ever: Which two androids should be fucking?" you will find that they shut me down without even a warning. Those bastards.
But i'm not deterred by the new decency standards. As a proud blogger, if i want to write about robots fucking, i will insist on my first amendment right to use the f-word.
Anyways, the excitement of my "most controversial poll ever" died down pretty quickly after the result became a forgone conclusion. Last i checked, i looked like about 70% of voters wanted to see Star Trek Voyager's Borg chick, 7 of 9, get together with the Daryl Hannah replicant from Blade Runner.
Not a bad choice you pervs, but if you ask me, the obvious choice should have been Inspector Gadget and the late Optimus Prime. Two transformers? Come on people. Think of the all mechanical/sexual permutations that would have been possible.
At any rate. i aim to please, so here's your robotic fantasy come to life: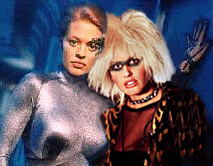 As for me, if i could get it on with the android of my choice, it would have to be this hottie, no contest.
Posted by annika, Mar. 6, 2005 |
Rubric:
photoshopaholic