Sheets Bird Addresses The Fubar Convention
The challenge: create a photoshop image that is even more freakin' disturbing than yesterday's Ward Churchil image.
Mission accomplished? i'll let you be the judge.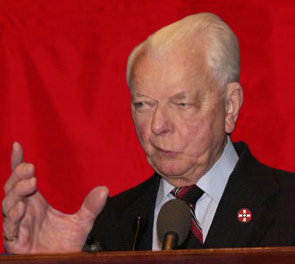 That's pretty ugly, but not as ugly as what he said on the floor of the Senate today, when he equated Senate Republicans with Hitler. Radio Blogger has the details.
Bird has completely lost his senses. How ironic for a Klansman to be lecturing on Nazism. At least he knows his subject.
By the way, i fully support this idea. If it's good enough for our stamps and money, it's good enough for West Virginia.
Posted by annika, Mar. 1, 2005 |
Rubric:
annikapunditry
&
photoshopaholic