Full Meltdown
Ward Churchill is in full meltdown mode. Last Thursday, he swatted a newspaper at a Denver tv reporter, when the reporter tried to ask about the "Winter Attack" painting. Churchill wants to get fired. Like the Pearcy couple here in Sacramento, he thrives on his own controversy. He lives for it.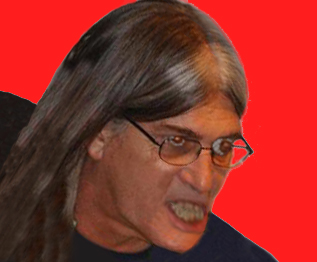 The University may oblige him.
Internal discussions at Colorado University are centering on a buyout offer to controversial professor Ward Churchill in order to quell the tempest caused by his characterizations of victims of Sept. 11, 2001, as 'little Eichmans' and to avoid a costly, drawn-out lawsuit, the Denver Post reports.

. . .

Colorado regents have authorized an internal review of Churchill's writings and speeches to determine if he should be fired. A decision is scheduled for the week of March 7, although Churchill could appeal if the university terminates his employment. Such a dismissal, even if not mired in the controversy surrounding Churchill's case, could last years and inpose [sic] expensive legal costs.
What's the pool on his last day at CU?
Posted by annika, Mar. 1, 2005 |
Rubric:
annikapunditry
&
photoshopaholic