What i Did On MLK Day
i promised you news of my doings during my recent trip to Detroit. We didn't work on Martin Luther King Jr. Day, so our hosts gave us tickets to the North American International Auto Show at the Cobo Center. Always thinking of you, my visitors, i took some photographs of the cars that really impressed me.
Outside it was freezing cold. i'm not used to it. i'm a Californian, my nordic blood notwithstanding. Snow is something that belongs in the mountains. You ski on it. You don't drive on it. 50° is about as cold as i want it to be outside. Not fucking 20°!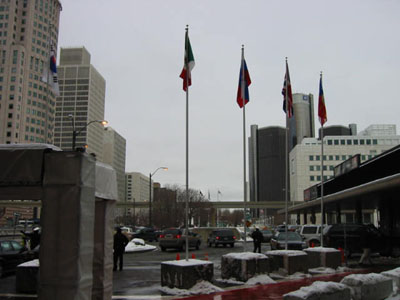 There were five of us. Paul and i were the two senior paralegals, Linda and Grace the two associates, and Patricia the temp paralegal. The other temp, Kathy, stayed in the hotel room nursing the flu, which she eventually passed on to the rest of us.
The convention center was a sea of people. On the day we were there, the attendance was 41,415! And at any given time, at least one of the five of us was lost. Someone was always lagging behind, gawking at a vehicle, or in Paul's case, gawking at a spokesmodel. We used up a lot of cellphone minutes just trying to keep track of each other. Here's a view of the bedlam that greeted us inside the Cobo center.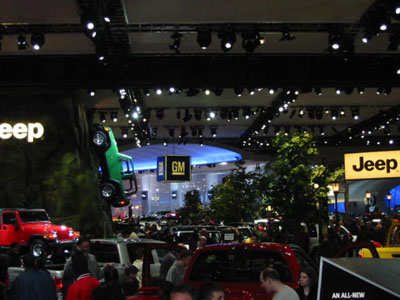 One of the first cars that caught our eye was this Lincoln convertible concept car. Everything is going retro these days, but i think Ford did a real nice job on this baby. A little stodgy for my taste, but cool nonetheless. One thing i really liked was the pale cream colored leather interior. It was almost bluish; i've never seen a color like it. The official pictures are here.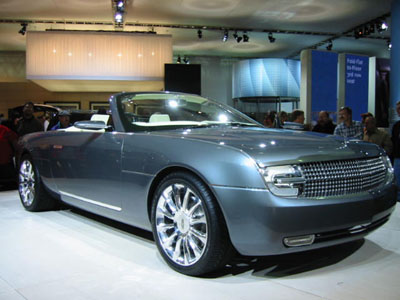 No one does retro like Jaguar, though.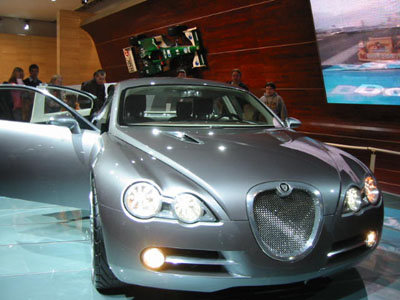 The Pontiac Solstice will be available next year, so i was told. It looks great, but i remember how shitty the Fiero was. Hopefully Pontiac has learned their lesson.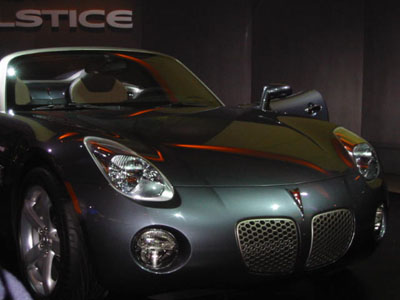 About lunchtime we all went out to the concession stands and paid through the nose for some hot dogs and sodas, which they called "pop." There was some sort of rock band playing music in the arena and we hung out there while we ate. Unfortunately, being the only smoker in the group i had to duck outside and freeze my ass to keep my nicotine levels up. Paul was nice enough to accompany me and chase away any homeless dudes, while i smoked.
We all kidded Linda about getting a new car. She makes a shitload of money, but she's still driving the same car she had in law school. A beat up Corolla from the eighties! She doesn't want to get rid of it because it's paid for and it still runs great. But we made it our mission to select Linda's next car and then apply relentless pressure on her until she buys it. My pick was this thing: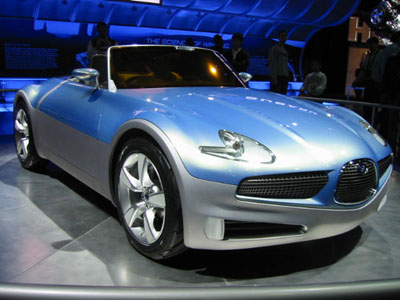 Too bad it's only a concept car and not on the market yet. It's called the Subaru B9SC Roadster, it's a hybrid and it is phat! Official pics are here. The windshield is made of special glass that changes the tint like some sunglasses do. Confidentially, i think Linda needs to upgrade her image to something sportier. Maybe this car will be available for sale by the time her Toyota finally craps out on her.
Paul noted that Linda's style is, shall we say, simple, tasteful, conservative . . . maybe somewhat dowdy. i don't think she considered that a compliment. At any rate, Paul encouraged her to stay with what made her comfortable. His choice for Linda's next vehicle was the Chrysler 300. That didn't go over too well either. i didn't take a picture of it, but here's what it looks like. Contemporarily stodgy. A bit more mature than my friend would like to go.
i think we all agreed on Linda's future car when we saw the new BMW mini SUV. We fell in love with it. It's called the X3. i sat in it and it's wonderful. So comfy. i just love the seats in german cars.
i didn't take any pictures of the X3 because it was at that moment that i heard music and birds singing and a heavenly light shone down and i became dizzy with feelings of intense desire. i saw this vehicle: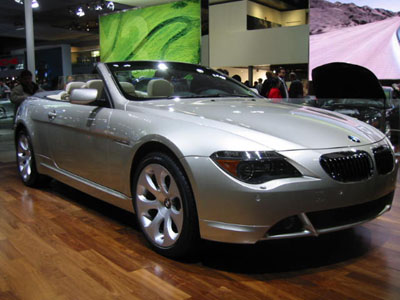 Oh yes, my darlings. BMW has revived the 6 series. In convertible. i stood there slack jawed and repeated to myself, "yes . . . yes . . . yes . . . 645ci, you are mine, baby!" Sure i'll never be able to afford it without marrying rich. But lemme dream, okay? i would look so damn good driving along Sunset in that bitch with the top down at a ridiculously high rate of speed. i get all weak and tingly just thinking about it. Gaze at these official pics, if you will. It's simply gorgeous.
After they dragged me away from my new love, we all went back to the hotel to rest and get ready for the evening. We met up with some of the in-house people for our client, who drove us down to a place called Dave & Buster's, which is apparently a chain, although it was the first i'd heard of them. They make a very good desert with bananas and caramel sauce.
The place is like an adult video arcade. Paul was in heaven. i tried a few of the shooting games, but i really liked the airplane simulator, even though i kept crashing. We had fun even though we couldn't get rip-roaring drunk like we wanted. We tried to keep up appearances since we were with the client's employees and we had to work early the next day.
And that was how i spent my MLK day.
Posted by annika, Feb. 2, 2004 |
Rubric:
annik-dotes