Breaking News

BOY GETS STUCK INSIDE TOY MACHINE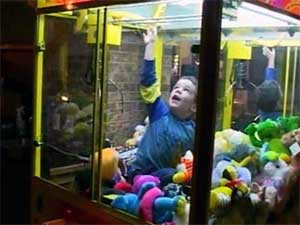 A boy got stuck inside a friggin' toy machine today! Can you believe it?
Crazy kids. Whattayagonnado?
After dropping $20 in quarters, Dad finally gave up 'cuz the stupid claw thing kept dropping the kid. "Those damn things are rigged," he was heard saying as he drove away in frustration.
Charles E. Cheese could not be reached for comment.
Developing.
Posted by annika, Oct. 25, 2006 |
TrackBack (0)
Rubric:
The Huh? Files