Long-Ass Battle Of The Movie Assassins Update
In June, last year, I started this whole running sidebar poll about movie assassins and who would kill whom if they had to. I'm calling the latest poll, which was the closest competition so far. You decided that Jason Bourne is more kick-ass than Leon from The Professional by a vote of 53% to 47%. It was neck and neck for quite a while.
Who knew there were so many Leon fans out there? And I thought The Professional was a heartwarming tale about some French dude and his kid. Maybe I should see it again.
Anyways, Jason Bourne advances and the bracket looks like this: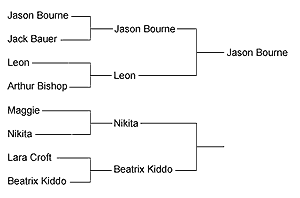 The next matchup is between Nikita of La Femme Nikita and Beatrix Kiddo of Kill Bill Parts 1 and 2. The question, as always, is this: "If Nikita and Beatrix Kiddo were each given orders to kill each other, who would win?"
So what are you waiting for? Scroll down and vote!
Previous updates in this, the blogging equivalent of a massive public works project,* can be found here, and here.
_______________
* Nobody's sure if it's worth the effort, but we've gone too far to call off the damn thing now.
Posted by annika, Apr. 7, 2006 |
TrackBack (1)
Rubric:
Let's Go To Hollywood