Gun Nut Progress Report
As a brand new gun nut, i thought it might be interesting to give you regular updates on how things are going.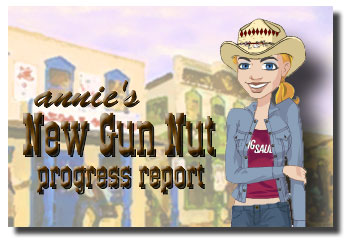 i've now shot a total of 150 rounds through a pistol. The Sig Sauer P226 is still the gun to beat, in my estimation. But i recently tried two other guns, which i'll critique for you from my novice's viewpoint.

The first was a Kimber Tactical Pro II in .45 ACP caliber. i did not like this gun. First of all, it dang near took my arm off. Big bang, big kick. That's to be expected from the larger cartridge, i imagine. But i know the Kimber's sights were off, too. Look at the photo of my target. You'll see that nothing hit to the left of center out of 50 rounds at ranges from 7 yards to 25 yards. i think that's unusual. It also shot low and i had to compensate by aiming above the bullseye, which was annoying. i normally line up the sights just below the bullseye.
Also, the Kimber's grip was too short and didn't feel right. The gun was double action only and had a grip safety and a thumb safety. i liked the idea of two safeties, but i'd rather have a single action option because i tend to squeeze the trigger very slowly and watching the hammer go back was distracting to me. i want to try another .45 just to give them a fair shake, but i wouldn't buy a Kimber. They retail for over a thousand and i expected better for that kind of price.
Most recently, i tried the Browning BDM 9mm. Now, after researching this post, i learned that the BDM can be switched from "double action" to "double action only" by use of a little slotted swich on the side. i noticed the switch at the range, but since nobody told me what it was for, i didn't mess with it.
The Browning was nice, despite some problems. i found it to be accurate at all the distances i tried. It fit my hand comfortably and the trigger was easy to squeeze. It's a good looking gun and it was well behaved when it didn't jam, which was too often for my liking. The range dude said it probably needed cleaning. Also, the slide sometimes failed to lock open after the last round was fired. i expected a little more from the famous Browning name, but it was a fun gun to shoot. i still prefer the Sig Sauer's big bright sights. The Browning's sights had smaller dots and one of them had been rubbed off on my rental gun.
Next week i think i'll branch out and try a revolver.
P.S. Last night, i had a dream that i met Kim du Toit. What's happening to me?!
Posted by annika, Aug. 29, 2005 |
TrackBack (1)
Rubric:
New Gun Nut Stuff