California's AG Says "Fuck You" To Conservatives
In the "How the Leftist Fringe Has Infiltrated Your Government" department, we have this latest outrage from the office of California Attorney General, Bill Lockyer.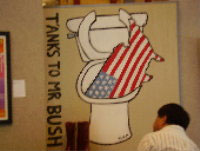 From Sacramento radio host Eric Hogue's blog:
California's Attorney General Bill Lockyer has invited 'political artist', Steven Pearcy, to hang his creations in the lobby of the Attorney General's Office at the Department of Justice, 1300 I Street, in Sacramento.

Today we dispatched our crack crew to the office complex to see for ourselves the 'artwork' hanging in the lobby - sure thing, it is in full view. Friday there was a reception, and a ceremony honoring Pearcy and his piece of 'art' as it was placed on the wall.
You might remember Steven Pearcy and his ugly wife Virginia, both
Bay Area lawyers who hate America
.
When Michael Moore was seated next to Jimmy Carter at the Democratic Convention, the party signaled its lack of concern for the half of this country that thinks Michael Moore is a liar and a charlatan.
While that was bad enough, it wasn't out of place at a party convention. But Bill Lockyer's office? Sure he's a Democrat, but he represents all Californians as Attorney General. By proudly displaying Pearcy's artwork, Lockyer is announcing his contempt for a good portion of the electorate that put him where he is.
i'm not saying he shouldn't have freedom of speech. But that type of inappropriate display in a state government office doesn't instill a lot of confidence that the Attorney General cares much about people like me.
Posted by annika, Jul. 20, 2005 |
TrackBack (1)
Rubric:
annikapunditry