A Forgotten Great American
John Hawkins has a post about the Greatest Americans of all time. Allow me to mention a forgotten great American, who didn't make anybody's list, without whom life would be very different all over the world.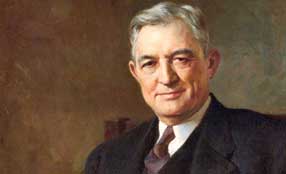 The man is Willis Haviland Carrier, the father of air conditioning.
In 1902, fresh out of Cornell University and working as an engineer at Buffalo Forge Co., Carrier developed the world's first modern air conditioner, combining temperature and humidity control in one system, for a Brooklyn, NY, printing plant. He earned a patent for this system design in 1906. His air conditioner used a centrifugal system, under low pressure, to gather air through a filter and pass that air over coolant-filled coils. That cooled and dehumidified air was directed at its target location while warmer air around the motor was vented out of the location. The technology behind Carrier's air conditioner was patented in 1911 and is the basis for air conditioner technology available today.
The ability to control indoor temperatures has influenced almost every aspect of our daily lives. Think about it -- where we live, where we work, what we eat, what we wear, what we smell like, how we travel, our architecture, our modern healthcare, our life expectancy, food storage, what we read, how much leisure time we enjoy, even the existence of the computer you are reading this on --
all influenced by or made possible by air conditioning
.
Look back for a moment to the world before the widespread use of refrigeration and air conditioning—a world that was still very much present well into the first decades of the 20th century. Only fresh foods that could be grown locally were available, and they had to be purchased and used on a daily basis. Meat was bought during the daily trip to the butcher's; the milkman made his rounds every morning. If you could afford weekly deliveries of ice blocks—harvested in the winter from frozen northern lakes—you could keep some perishable foods around for 2 or 3 days in an icebox. As for the nonexistence of air conditioning, it made summers in southern cities—and many northern ones—insufferable. The nation's capital was a virtual ghost town in the summer months. As late as the 1940s, the 60-story Woolworth Building and other skyscrapers in New York City were equipped with window awnings on every floor to keep direct sunlight from raising temperatures even higher than they already were. Inside the skyscrapers, ceiling and table fans kept the humid air from open windows at least moving around. Throughout the country, homes were built with natural cooling in mind. Ceilings were high, porches were deep and shaded, and windows were placed to take every possible advantage of cross-ventilation.

By the end of the century all that had changed. Fresh foods of all kinds were available just about anywhere in the country all year round—and what wasn't available fresh could be had in convenient frozen form, ready to pop into the microwave. The milkman was all but gone and forgotten, and the butcher now did his work behind a counter at the supermarket. Indeed, many families concentrated the entire week's food shopping into one trip to the market, stocking the refrigerator with perishables that would last a week or more. And on the air-conditioning side of the equation, just about every form of indoor space—office buildings, factories, hospitals, and homes—was climate-controlled and comfortable throughout the year, come heat wave or humidity. New homes looked quite different, with lower rooflines and ceilings, porches that were more for ornament than practicality, and architectural features such as large plate glass picture windows and sliding glass doors. Office buildings got a new look as well, with literally acres of glass stretching from street level to the skyscraping upper floors. Perhaps most significant of all, as a result of air conditioning, people started moving south, reversing a northward demographic trend that had continued through the first half of the century. Since 1940 the nation's fastest-growing states have been in the Southeast and the Southwest, regions that could not have supported large metropolitan communities before air conditioning made the summers tolerable.
Living in Sacramento, i should thank Mr. Carrier every day. Come to think of it, so should George W. Bush, as the great southern migration of the last few decades, which increased the electoral value of the red states, can be traced back to the widespread use of indoor air conditioning.
More: Jeff Harrell names another forgotten great American, Norman Borlaug. After reading Jeff's post, i'd have to agree.
Posted by annika, Jun. 12, 2005 |
Rubric:
History