Half-Wit, That's All I Ever Heard...
Half-Wit, How I Love To Hate The Word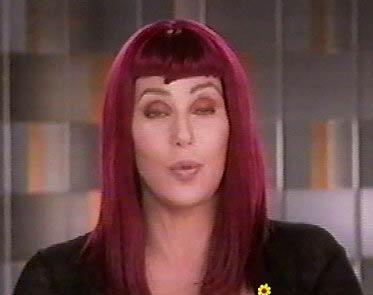 From Drudge:
Only a couple hundred came out to see Cher Friday night at Miami Beach's CROBAR disco, but that did not stop the legendary diva from issuing an election warning against Republican control.

. . .

Cher warned moveon.org clubgoers to fight Bush, before 'it's too late':

'All the gay guys, all my friends, all my gay friends, you guys you have got to vote, alright? Because it would only be a matter of time before you guys would be so screwed, I cannot tell you. Because, you know, the people, like, in the very right wing of this party, of these Republicans, the very very right wing, the Jerry Falwell element, if they get any more power, you guys are going to be living in some state by yourselves. So, I hate scare tactics, but I really believe that that's true.'
Actually i'm a fan of Cher's, but that's just fucking stupid. She
really believes
that that's true?
i never thought i'd hear a celebrity say something more idiotic than Cameroon Diaz telling Ofrah Winfrey's audience "If you think that rape should be legal, then don't vote," but Cher's comment comes pretty close.
Posted by annika, Oct. 24, 2004 |
Rubric:
Celebrity Watch