Democrats Like To Grope Too
Drudge has a photo montage of the two Johns groping and cuddling each other at every photo opportunity.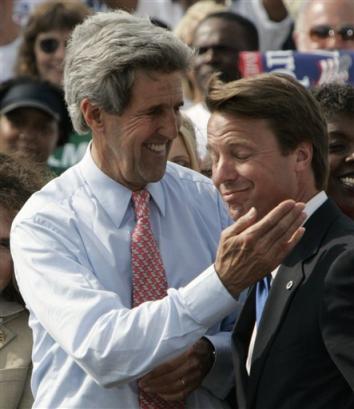 Now i'm not offended by two men being physically affectionate with each other (not even two political candidates who until two days ago were rumored to have disliked each other intensely). It's just that this Democratic touchy-feely shit is such an obvious attempt to pander to us female voters. Yah, i'm sure the polls and focus groups say we're supposed to respond more favorably to men who hug each other. Maybe we do in a general sense, i don't know. But i do know that in the midst of a war, in which our enemy has made no secret that they want us all dead, and that they are not interested in negotiating on that point, and that they'll stop at nothing to kill us all, and as violently as possible . . . well let's just say i'd rather have a couple of men who shake hands leading our side in that situation.
Drudge link via Blogeline.

Exclusive annie's j Update!: Yoko Ono has recorded a perfect campaign theme song for the two Johns!
Exclusive annie's j Update 2!: OMG, i think this Kerry-Edwards love fest is getting totally out of hand!
Posted by annika, Jul. 8, 2004 |
Rubric:
annikapunditry