Annika's Journal Now Selling Carbon Offsets
[What the hell is a carbon offset?]

SAVE THE WORLD!!!
Buy carbon offsets from me.
Even though I don't know what a carbon offset is, I know a moneymaker when I see one.
You, guilt ridden Annika's Journal reader that you are, can save the world! One book at a time. One DVD at a time. One moderately priced cheese sampler at a time.
First, a description of the problem.
All scientists agree that:
The Earth is warming.


It's your fault.


You can do something about it.


If you don't do something about it, the animals will die.


If you don't do something about it, the good rich people will have to move away from Malibu, Palm Beach and the Upper East Side.


Doing something about it should somehow involve penalizing the bad rich people like those evil corporation men.


Doing something about it will make you feel good, even if the world ends up getting destroyed anyway. Or not.
[
N.B.
Anyone who disagrees with any of the above
propositions
statements of incontrovertible fact will be immediately banned from this site, and your comments removed. This is not an example of censorship. No not at all. Its just that there are certain prerequisites of intelligence and knowledge that all commenters to this blog should possess. It's what my readers expect, after all. By disagreeing with what I say is incontrovertible fact, you are demonstrating that you do not possess the minimum intelligence and knowledge required, and therefore in order to maintain the credibility of this weblog —
you must be smacked down sucka!!!
]
Now that you understand the problem (animals dying, good people moving), I'm sure you want to know how to help. After all, Al Gore recently said that all we need in order to solve the problem is in our very own hands, except for the will to act, which we also have. Which means that we have everything we need.
But although we have everything we need, we don't have everything we want. This might seem unrelated at first but if you keep reading you'll see that the two points are very related.
When I say we don't have everything we want, what I really mean is I don't have everything I want. For instance, I don't have:
Hawaii Five-0 - The Complete First Season. I love this show, and I've been waiting for the DVD set to come out for years! Coincidentally, Hawaii is another place that will probably be destroyed because of you and your decadent lifestyle.


A Storm of Swords by George R. R. Martin. I've been working my way through Martin's "Song of Fire and Ice" series, and I'm halfway through it. This is the next book in the series and I want it. By the way, a song of fire and ice is what you'll be singing if you don't get off your ass and do something to stop global warming.


Two pounds of Spanish cheese. This item doesn't necessarily have anything to do with global warming, but who doesn't love Manchego cheese? I know I do. It's great with just a sprinkle of olive oil on it. Of course, if we don't stop global warming, all the olive trees will die.
There are plenty of other things I want too. You can find them
here
.
To sum up what I'm trying to say, we have everything we need to stop global warming but I don't have everything I want.
So here's the deal. You can save the world and help stop global warming by buying me shit. Your purchases will help pay for carbon offsets that I will do, or make, or whatever. For every dollar you spend on me, I promise to reduce the carbon footprint of my apartment by turning off all non-essential electrical devices for one hour.* This could add up to some serious non-electrical usage depending on how many offsets you buy.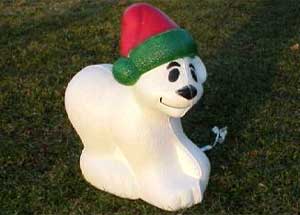 So save the planet — buy me stuff. If they knew how much you cared, I'm sure the polar bears would thank you. (Assuming they could talk, and wouldn't eat you first, which they probably would, but you get my point — it's for the animals.)
_______________
* Up to a maximum of 8 hours per day, weekends excluded. Non-essential electrical devices does not include refrigerators, clock radios, and any device that uses a clock or would be a hassle to unplug like my cable box.
Posted by annika, Mar. 4, 2007 |
TrackBack (0)
Rubric:
annikapunditry