State Of The Union 2007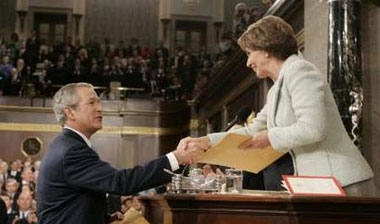 Wouldn't it be funny if the Sergeant at Arms announced the president with a Sling Blade voice? I think that would be really funny.
Pelosi really looked good tonight, and even though I don't like her, I was touched by the recognition she received.
When Dikembe Mutombo Mpolondo Mukamba Jean Jacque Wamutombo was honored, my boyfriend and I looked at each other and simultaneously exclaimed: "Who wants to sex Mutombo!" It was a very hilarious moment.
In closing, I didn't expect much from President Bush tonight. I was pleasantly surprised. The speech was one of his most enjoyable. I sensed some genuine good feeling in the House, though I know it's only a temporary thing, but I liked it. I also thought he did as good a job of explaining his foreign policy as he's ever done. Of course, as a lame duck, there's no pressure for him to persuade anyone anymore. He either succeeds or he doesn't.
And now that's over, it's time for the biggest tv event of the night: American Idol.
P.S. Oh I forgot to mention Nancy's non-stop blinking towards the end of the speech. What was up with that?
Posted by annika, Jan. 23, 2007 |
TrackBack (0)
Rubric:
annikapunditry