Kraken Caught Off Chichi Jima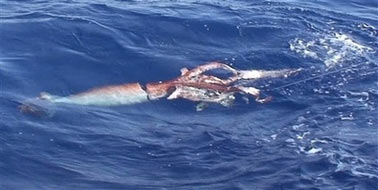 Two years ago someone shot film of a giant squid swimming in the deep. Now someone's caught one. It's believed to be the first time anyone has ever done such a thing, ever.
Giant squid, formally called Architeuthis, are the world's largest invertebrates. Because they live in the depths of the ocean, they have long been wrapped in mystery and embellished in the folklore of sea monsters, appearing in ancient Greek myths or attacking the submarine in Jules Verne's "20,000 Leagues Under the Sea."

The captured squid was caught using a smaller type of squid as bait, and was pulled into a research vessel "after putting up quite a fight," Kubodera said.

"It took two people to pull it in, and they lost it once, which might have caused the injuries that killed it," he said.

The squid, a female, was not fully grown and was relatively small by giant squid standards. The longest one on record is 60 feet, he said.
More giant squid blogging from the depths of the annika's journal archives,
here
.
Posted by annika, Dec. 29, 2006 |
TrackBack (0)
Rubric:
Science & Technology