A Hero You Should Know
Imagine what this nation would be like if the media replaced all their stories about starlets behaving badly with stories about women like Sgt. Kristi J. Artigue.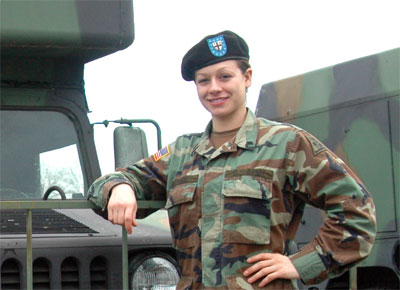 "I've always been a risk taker," said Artigue, 23, now a medic with the 141st Medical Company [Connecticut Army National Guard].

On Nov. 10, Artigue called upon the skills learned during her six years of National Guard service -- including a recent deployment to Iraq -- to help save the life of a man who may have drowned.

. . .

"Tom," a middle-aged man, had suffered a seizure and fallen into a section of the West River. Unable to swim, he struggled to remain above the surface with the help of several civilians and two West Haven police officers. The chain was trying to hang on until the local fire department rescue crew could arrive . . .

Then the life-defining event happened.

"He let loose," said Artigue, "and went under for one or two seconds. Long enough to know he wasn't going to be coming up again. And he was moving out farther from the shore toward the center of the river."

At that point, Artigue let her training take over. The nursing student and Iraq War veteran jumped into the freezing water and swam out about ten feet to where Tom was struggling for air.

"It was too cold to talk," said Artigue, "but I grabbed his vest and tried to keep him above the water. He grabbed a hold of me and started to pull me down with him, but I was able to drag him by his vest to shore."

. . . On a cold November day, coming out of cold, moving water, communication was difficult, but Artigue was able to keep Tom talking and conscious until emergency crews arrived.
I am continuously amazed at the quality of people who volunteer to serve our country. Swift water rescue is a very dangerous business. I know I wouldn't have jumped in there.
A future trauma nurse, Artigue plans to use her experiences in the Guard and in Iraq to save as many lives as possible.

"Since Iraq," she said, "I've learned to adapt and overcome. I saw what was happening and I had no option but to get involved because of not only my medical training, but also because of my personal responsibility.

"I will always appreciate my military experience. It's something I would never give up," said Artigue.
Posted by annika, Dec. 19, 2006 |
TrackBack (0)
Rubric:
annikapunditry