Pearl Harbor Day
I like this photo of U.S.S. Ronald Reagan.
As most of you know, it is a naval tradition for sailors to line the deck of a carrier when passing U.S.S. Arizona and also Mt. Vernon.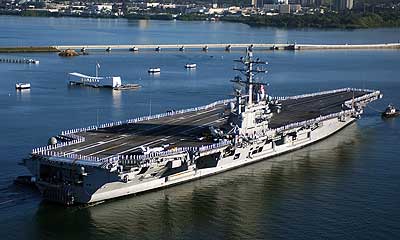 I visited the Arizona Memorial once. (It's where I learned that "quay" is prononced "key.") For those who haven't yet, you definitely should go see it. The National Park Service runs the museum onshore, and before you get on the ferry to the memorial, they make you watch a movie about the attack. It's a good idea because it puts everybody in a somber mood before they go to the memorial.
When you get on the ferry boat, they make a big deal about how you are no longer in the custody of the Park Service; now the Navy is in charge, which makes you even more respectful by the time you step onto the memorial. It is a cemetary after all.
The group I was with was very quiet while on the memorial, as I imagine most visitors are. It was a beautiful day, and all you could hear was the flapping of the American flag overhead or the occasional clang of the line against the flagpole. When you look over the side, you really can see the Arizona, only a few feet below the water's surface. And there really is oil coming out of her after all these years. And inside still, are the men. They died sixty-five years ago today.
Pearl Harbor Trivia: Bonus points go to whoever can name the ship that survived Pearl Harbor, only to be sunk by a British torpedo!
Posted by annika, Dec. 7, 2006 |
TrackBack (0)
Rubric:
History