First DWTS Post Of The Season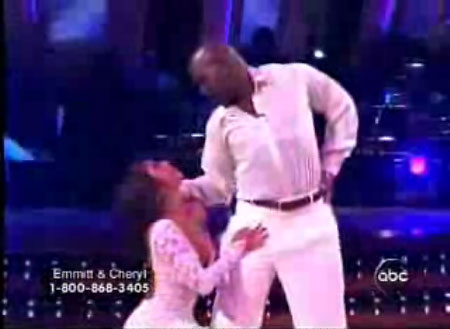 Just because I haven't posted about Dancing With The Stars this season doesn't mean that I haven't been as obsessed as ever with the show.
I have a question about last night's competition. Did you see it? During Emmitt and Cheryl's rumba, didn't Cheryl's hand land squarely on Emmitt's little umpire at one point? And didn't Cheryl suddenly realize where it was and then move it quickly to the side? And wasn't Emmitt's little umpire signaling touchdown at that very moment?
I think so.
I also think Mrs. Smith is probably not going to let Emmitt and Cheryl spend another 13 days together "rehearsing."
Okay I'm off to watch the rest of the results show.
Update: When they announced that Il Divo would be performing tonight, I honestly expected them to sing "Whip It."
Update 2: I'm sorry to see Monique and Louie go. Monique really was fun to watch and the judges weren't always fair to her. Next week's elimination will be impossible, because the final three teams are all so good.
Update 3: YouTube just posted the Rumba, check it out for yourself.
Posted by annika, Nov. 1, 2006 |
TrackBack (0)
Rubric:
Arts