The Economy
According to today's New York Times,
In many ways, the economy has not looked so good in a long time.
Yet Republicans can't get any love when it comes to the strong economy.
"Voters overwhelmingly don't approve of the president on the economy," said Amy Walter, a senior editor at the Cook Political Report, a nonpartisan firm that handicaps political races. "It comes down to the issue of credibility. And so many voters feel so pessimistic about the direction of the country."
Take the unemployment figures for instance. The rule of thumb I always heard in school was that anytime you have unemployment at 5% or below, the country was doing great. Right now, unemployment is at 4.4%. That is great. Check out this graph from the
Bureau of Labor Statistics
for some historical perspective.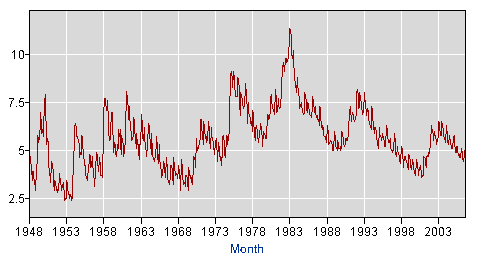 As you can see, since WWII, unemployment has been over 5% a lot more than it's been under. Yet you still get comments like this one:
Ann O'Callahan, a 64-year old Irish immigrant in suburban Philadelphia, defines herself as a social conservative. She voted Republican in 2000, but switched to the Democrats in 2004. This year she plans to vote Democratic again, mainly because of the economy. "I am very disturbed by the economic policies of the Bush administration," she said.

Ms. O'Callahan's district, Pennsylvania's Seventh, is an island of relative affluence. The median income in the area, according to the Census Bureau, topped $63,000 last year, more than a third higher than the national median. According to Economy.com's analysis, based on county data, unemployment this year in the district should average 3.8 percent, well below the national average.

But, Ms. O'Callahan said, jobs were not enough. "I work with job placement so I see up close how a lot more work is demanded of people, how benefits are disappearing, how hourly rates have been stagnant throughout the Bush administration," she said. She said that jobs were plentiful, "but paying $8 an hour with no benefits."
What I think Ms. O'Callahan overlooked is that in any economy there's going to be a bottom of the barrel type job. These days it's probably going to pay $8 an hour without benefits. But when 96.2% of the people in Ms. O'Callahan's district are working, I'd imagine that she's spending most of her time placing people in these bottom of the barrel type jobs. Most people with skills are probably already employed, and making more money.
We need entry level jobs. They're where most people start out. And they're good for students and retired people. Look at what's going on in France where "youths" are burning busses and attacking police because their country won't allow businesses the freedom to offer entry level jobs.
With the Dow over 12,000 and unemployment under 5%, I say the economy is doing great.
Posted by annika, Oct. 24, 2006 |
TrackBack (0)
Rubric:
annikapunditry