MNF Pick, Week IV
Tonight's game is Green Bay at Philadelphia. Philly is favored by 11½. I was stumped about who to pick, since Green Bay has burned me before. Here's the history.
On September 13, 2004, I bet Green Bay in the season opener. They won and I won.
On October 11, 2004, I picked favorite Green Bay, and they got trounced by the Titans, so I lost.
On November 29, 2004, I bet against the Pack. They won 45 to 17, and I lost.
On October 3, 2005, I bet on Green Bay. They lost, but Carolina didn't cover so I won.
On November 21, 2005, I bet against Green Bay. They won and I lost.
So I figure, there's enough information there to discern a pattern. Anyone who took the LSAT ought to be able to see it. If you want to try and guess it, don't click on the extended entry. Otherwise, the answer is below.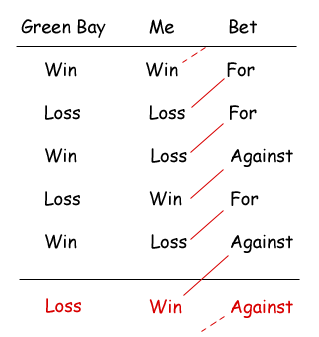 As you can see, the pattern for Green Bay wins and losses is a simple alternating pattern. Therefore, they should lose tonight.
The pattern for my wins and losses matches the pattern for my bets, except that it's one off.
Therefore, if the pattern holds, the next entry in the "Bet" column should be "Against," to match the "Win" entry at the top of the "Me" column.
So I'm picking Philadelphia, minus the 11½ point spread.
Update: Eagles win.
Posted by annika, Oct. 2, 2006 |
TrackBack (0)
Rubric:
Sports