67th Anniversary Of Case White
Today is the 67th anniversary of the beginning of World War Two in Europe. As you should remember, it began with the German invasion of Poland, which the Wehrmacht codenamed "Case White." (DANEgerus also reminds us that the Red Army invaded from the east sixteen days later.)
I think it's especially appropriate to pause today and think about that fateful moment in 1939, which led to the death of so many millions.
Many folks have noted that our situation now is not unlike the time before that first panzer crossed the Polish frontier. I'm one of them. I see the failure of our international institutions and the blindness of so many prominent figures and I think of the League of Nations, Chamberlain, Lindbergh, and Coughlin.
There is no cosmic law that says we can't re-ignite the horrors of World War Two for a new generation. The United States lost 293,000 brave men to the conflict, but almost zero civilians. We had it lucky. We were the saving heroes from across the water in that war. We won't be so lucky next time.
The bill from the last world war was staggering. Twenty-five million Soviet citizens, fourteen million Chinese, seven million Germans, six million Poles, two million Japanese, and on and on.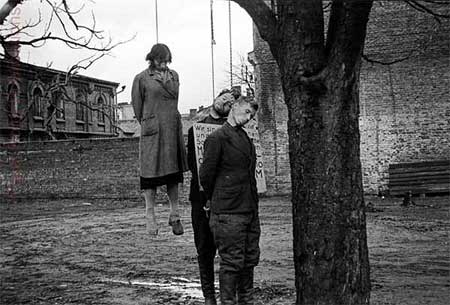 If you were a European Jew, a Philipino, a Chinese or Russian peasant, even a lowly German or Soviet conscript, your life was a hell in the 1940's. All because a handful of world leaders could not, or would not, stop the juggernaut of fascism.
The atrocities were so numerous, we've given them names: Bataan, Auschwitz, Malmedy, Nanking, Dachau, Katyn Forest, Lidice, Treblinka, the Burma Railway, and on and on.
We must also remember the unimaginably horrible deaths from new techniques of killing developed for the war by our side, and used at Hiroshima, Nagasaki, Dresden, Tokyo, and on and on.
There are those who say we are on the precipice of World War Three right now. Others say it started five years ago. I am not going to argue with either viewpoint. Nor will I end this post with a pollyannish "don't worry, our leaders have things under control."
Because even if we were blessed with the greatest of statesman, which we're not, I don't know that it will be possible to avoid another trial of war brought upon us by evil men.
Some people insist our current enemies are not dangerous, or if they are, they're not evil. I'm at a point now where I don't think that argument matters a whole lot. Our enemies have their own agenda, and they will settle the issue in their own time. And we will have to fight them whether we're ready or not.
I looked up at the sky last night and saw a fiery meteor burn across the horizon. It was scary, though I knew it was no bigger than a coin. It made me think about how wise we think we are, yet how much there is we don't know. I wonder if there are intelligent beings who have been watching us these past hundred years. How they must laugh at our folly.
Posted by annika, Sep. 1, 2006 |
TrackBack (0)
Rubric:
History
&
annikapunditry