Jeopardy With Annika, Round 30
The penultimate round. (I love using using the word penultimate in a sentence. There, I did it twice.) This means that after this round, we move on to Final Jeopardy!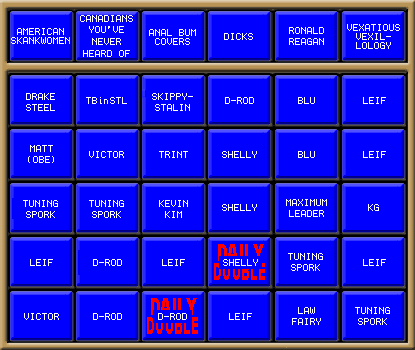 Leif is leading the pack with $1900; D-Rod and Tuning Spork are tied with $1500; Shelly has $1000; Victor has $700; Law Fairy has $500; Maximum Leader, KG, Blu and Kevin Kim have $300 each; Matt of Overtaken By Events and Trint have $200 each; Drake Steel, TBinSTL and SkippyStalin have $100 each.
The category is "Dicks," for $100.
Posted by annika, Aug. 31, 2006 |
TrackBack (0)
Rubric:
Dumb-Ass Quizzes