Annika's Jeopardy, Round 21
D-Rod gets the last Daily Double!
Let's go over the Daily Double rules once again.
The rules for Daily Double are almost the same as on tv, with an important exception. In my game everybody gets to play the Daily Double.
Every response must have a wager in it. The lowest you can wager is $100 and the highest you can wager is either $500 or however much money you have earned already, whichever is higher. Or you can wager any amount in between.
Since D-Rod picked the Daily Double, his response gets priority. If you guess before him you run the risk of tipping him off to the correct response. If D-Rod either guesses wrong or does not respond by the expiration of his time limit (9:00 p.m. Pacific time on Thursday) the rest of the responses will count in order of their posting.
Here are the official standings. Tuning Spork is ahead with $1200; Leif is second with $1100; D-Rod has $900; Shelly and Victor are tied with $700 each; Law Fairy has $500; Maximum Leader and KG have $300 each; Matt of Overtaken By Events and Trint have $200 each; Drake Steel, TBinSTL and SkippyStalin have $100 each.
The category is "Anal Bum Covers." I'll post the clue after I eat some dinner.
Okay, here's the video clue. I'm certain it's google proof!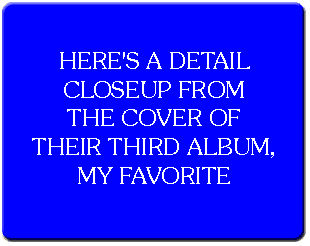 Reminder: Just in case it wasn't clear. The time limit applies only to D-Rod. If he doesn't respond by 9:00 p.m. Pacific Time tonight, the clue is still open to anyone who wants to try.
Posted by annika, Aug. 9, 2006 |
TrackBack (0)
Rubric:
Dumb-Ass Quizzes