new Super Hero Stamps
Today, the United States Postal Service is releasing a new set of stamps commemorating ten DC Comics superheroes. The comic geek inside of me is all a-flutter: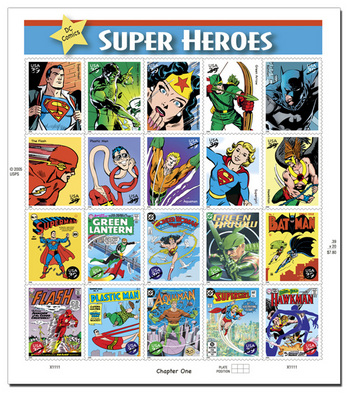 Click for bigger

Aren't they pretty? The Comic Book Guy inside says, "Nice mix of Golden Age, Silver Age, and modern covers!" He's right, too.
Trivia time: Which one of these characters appeared previously on a U.S. stamp? The answer is below the fold.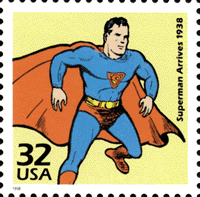 This stamp was issued in 2001 as part of the USPS "Celebrate the Century" collection--the 1930's set. I liked this stamp so much I bought the sheet, put the Superman stamp in a small frame, and used the rest of the stamps.
Posted by Victor, Jul. 20, 2006 |
TrackBack (0)
Rubric:
Arts