Annika's Journal Jeopardy, 2006
It's July, and that means it's time for the second annual annika's journal version of the popular game show, Jeopardy!
I'll be your host. As last year, I pick the answers, you guess the questions, and you must remember to use the signalling device and phrase your response in the form of a question.
I'll start it off with the first category: "American Skankwomen." Like last year, the first couple of correct responders will get to name the rest of the categories, until all the category boxes are filled. (Of course, I'll reserve the right to veto any categories i think are lame.)
So here's the first question: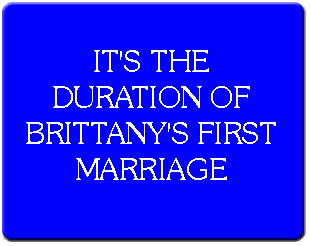 Good luck!
Update: Controversy on the first question already! Drake Steel's response, which was accepted by the judges, was 54 hours. According to Wikipedia, Brittany's marriage to Jason Alexander lasted 55 hours. Just to be absolutely certain, I looked up the annulment certificate, which bears a time stamp of 12:24 p.m. on January 5, 2004. I then determined the difference between the reported time of marriage, 5:30 a.m. and the time of annulment. The result is exactly 54 hours and 54 minutes. So, therefore I would have accepted either 54 or 55 hours as a correct response. So big congratulations to Drake, who participated last year but never got on the board!
Posted by annika, Jul. 4, 2006 |
TrackBack (0)
Rubric:
Dumb-Ass Quizzes