LAist: A-Listers Party In L.A.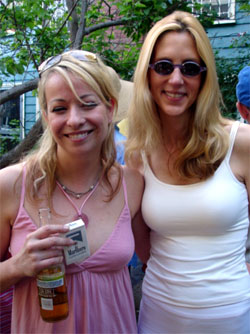 Holy stratosphere, is that Moxie with Ann Coulter at Cathy Seipp's party for her daughter Maia?
And Sandra Tsing Loh was there too? (She's totally a hero of mine.)
I didn't even get a puppet show for my grad party. wtf?
Oh, you'll note too that Moxie smokes my brand.
And that Ann Coulter's tits are bigger than I had realized.
Via Tony Pierce, who's now turned his benevolent gaze upon LAist, a blog about Los Angeles.
Posted by annika, Jun. 19, 2006 |
TrackBack (0)
Rubric:
On The Blogosphere