Death Of An Enemy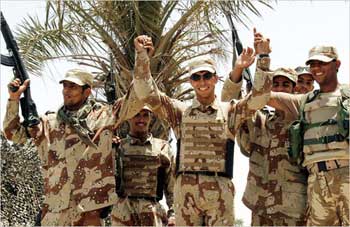 Now that Al Zarqawi is getting fucked in the ass by his cellmates Pol Pot and Beria, I think we should celebrate the heroes who dropped the two 500 lb. JDAMs that killed him. Their victory is as historic at the one that occurred on April 17, 1943, also heralded as great news:
[A]s the mountains of Bougainville came into view [it was] 0934 when sharp-eyed Doug Canning called out "Bogeys, eleven o'clock. High." Mitchell couldn't believe it; there they were, right on schedule, exactly as planned. The Japanese planes appeared bright and new-looking to the pilots of the 339th. They jettisoned their drop tanks and bored in for the attack. Holmes and Hine had trouble with their tanks, only Barber and Lanphier of the killer group went after the Japanese bombers. All the other P-38s followed their instructions to fly cover.

. . . The Lightnings had waded into the Japanese flight, pouring forth their deadly streams of lead. In the manner of all aerial combat, the fight was brief, high-speed, and confused. . . .

. . . Both Lanphier and Barber claimed one bomber shot down over the jungles of Bougainville. Frank Holmes claimed another shot down over the water a few minutes later. From Japanese records and survivors, among them Admiral Ugaki, the following facts are certain. Only two Betty bombers were involved; Yamamoto's was shot down over Bougainville with no survivors; the second went into the ocean and Ugaki lived to tell about it. Shortly after the attack, a Japanese search party located the wreckage, including the Admiral's body, which they ceremonially cremated.

. . .

The pilots uneventfully flew back to Guadalcanal, where upon landing, the ground personnel greeted them gleefully, like a winning football team. While Lanphier and Barber briefly disagreed about the air battle, all was subsumed in the generally celebratory atmosphere. Lanphier later recalled enjoying his best meal of the war that night.
Link to the full
history
here.
Posted by annika, Jun. 8, 2006 |
TrackBack (0)
Rubric:
History
&
annikapunditry