In Memoriam: Scott Crossfield
Yesterday we lost one of the great legends of aviation, and an American hero. Scott Crossfield was the first man to travel twice the speed of sound. He died when his single engine Cesna 210A crashed in Gordon County, Georgia.
On November 20, 1953, Scott Crossfield's Douglas D-558-II Skyrocket dropped from the belly of a B-29 and accelerated to 1,291 miles per hour at about 72,000 feet over California's Mojave desert. He had just lapped the sound barrier, twice.
If you would like to see actual footage of the Skyrocket launching from a B-29, go here.*
If aviation fanatacism were a religion, the entrance gallery of the Smithsonian's Air and Space Museum would be its Bethlehem, Jerusalem and Mecca all rolled into one. As any visitor to this temple knows, all you have to do is look up and you will see alongside the Wright Flyer** a constellation of the greatest planes in the history of the world. One of these planes is the North American X-15.
Scott Crossfield was the first man to pilot the X-15, in its dual rocket configuration, on June 8, 1959. He was one of 12 test pilots, a group which also included Neil Armstrong. The plane flew 199 times, launching from under the wing of a B-52. Thirteen of those flights exceeded 50 miles in altitude, bestowing the title of "astronaut" on the pilots. Two flights exceeded 65 miles.
One X-15 pilot, Michael Adams, was killed when the plane began to spin and hit 15 g's before it broke up over the desert.
Here's a picture after a hard landing with Scott Crossfield at the controls. This was the X-15's third flight, and one of the rocket engines had exploded after launch. Amazingly, Crossfield walked away from this landing unhurt. Stud.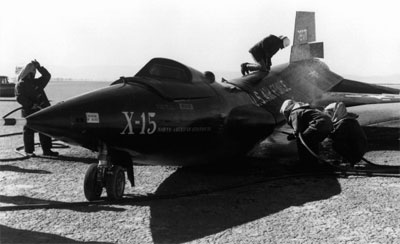 Scott Crossfield survived 30 flights in the X-15, including another mid-flight engine explosion. His last flight was in 1960, and all of the speed and altitude records were set later, by other men. But it was Scott Crossfield who made the courageous first test flights of this amazing and historic aircraft.
The X-15 could go 4,520 mph, almost seven times the speed of sound. It set altitude records that were not broken by any plane except the Space Shuttle until the recent flight of SpaceShipOne. The fifth American to enter space did so in an X-15!
Its highest flight made it to over 67 miles (354,199 feet). The X-15's rate of climb was 60,000 feet per minute. Contrast that with the 767 I flew in recently, which gets to its cruising altitude of 35,000 feet at about 2,400 feet per minute.
But those are just numbers. Wanna see how bad-ass this thing was? And how insane pilots like Scott Crossfield were to fly them? Check out this unbelievable video from inside the X-15, looking backwards as it launches. I had to run it a few times, and each time I was moved to shout something like "holy shit..." in disbelief. Keep an eye on the upper left, and you can see the contrails of the B-52 launch plane disappear in about five seconds as the X-15 rockets into space.
Just amazing.
Albert Scott Crossfield: pilot, American hero; born October 2, 1921 in Berkeley California; slipped the surly bonds of earth April 19, 2006.
_______________
* By the way, the Dryden Test Center site is amazing. There's so much good stuff here. Check out this fly-over shot of my alltime favorite jet. It's absolutely awe-inspiring!
** Not a reproduction, mind you. I'm talking about the real actual very first airplane ever.
Posted by annika, Apr. 20, 2006 |
TrackBack (0)
Rubric:
History
&
Science & Technology