Just To Show You How Completely Fucked My Bracket Is
My percentage of picks in Six Meat Buffet's Tournament Challenge is 17%. Abysmal, but I did worse in my own fantasy baseball league last year.
Here's how my Oakland regional picks turned out: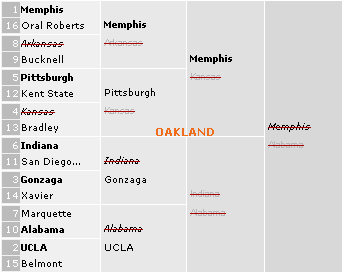 What gets me is how someone like Preston can hit 96.8% of his picks. He oughta change his name to Prestondigitator. Or the current leader, Duane, with an astonishing 98.5% score. How do you do that without a crystal ball?
I guess it helps if you know something about college hoops.
But I bet I can accessorize better than both of 'em. I know a little something about hoop earrings, you see.
Anyways, the last two spots in the Final Four will be filled tonight. I say it will be Villanova (whom i've picked to win it all) and UConn. I saw yesterday's games and LSU looked damn strong. LSU and 'Nova in the final? What do you think?
Update: George Mason? I thought he died in season two?
Posted by annika, Mar. 26, 2006 |
TrackBack (0)
Rubric:
Sports