The First Annual AJFF: Goldie Hawn, Part Five
Today let's take a look at two of Goldie's action comedies from the mid to late seventies: The Duchess And The Dirtwater Fox and Foul Play.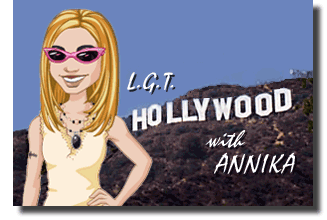 The Duchess and the Dirtwater Fox, 1976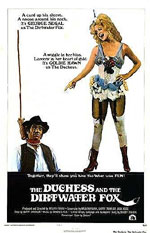 Starring Goldie Hawn and George Segal (whom I loved in one of the meanest movies ever, the classic Who's Afraid Of Virginia Woolf?).
The interesting thing about Duchess is how different Goldie's character is from her more timid roles of the early seventies. It seems that her roles had gradually become more assertive with each film, and this one went way off the scale.
The movie opens with Goldie and another chick rolling on the floor in a full-on bitch fight. She talks like a sailor, punches people out, handles a Winchester like a pro, and even flips the middle finger in one scene. A recurrent motif in the film are a couple of embroidered pasties that keep falling out of Goldie's purse at inopportune moments.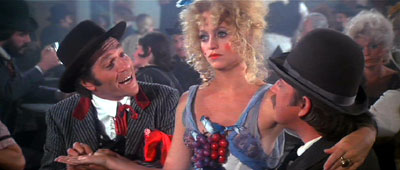 Goldie plays a hooker/cabaret dancer in 19th century San Francisco, who's always on the make. Segal plays a small time crook/gambler who's also always on the make. A bag of stolen money brings them together, and as I like to say, hijinx ensue.
At first Goldie doesn't like Segal, who's all hands when they first meet. But then she finds out about the money and plays along until she can steal it from him. He chases her, and a gang of outlaws chases him. Somehow or another Goldie gets mixed up with a band of Mormons on their way to Salt Lake City, including the great Conrad Janis. (I think there's the obligatory shot of a stagecoach going over a cliff, which must be stock footage because I've seen it in so many westerns it's not even funny.)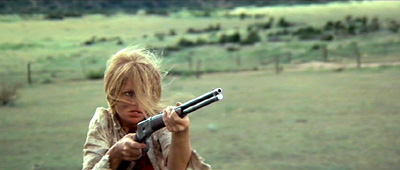 The comedy is pretty hit or miss, but the funniest scene takes place inside the stagecoach between Goldie and Segal. They're trying to concoct a scheme without Conrad Janis, who's sitting between them, figuring out what they're saying. So they speak in a comical pidgin German that's really well done.
The rest of the movie is kind of juvenile and the situations seem contrived. Goldie realizes she loves the gambler in the middle of a chase scene, while they're pretending to be guests at a jewish wedding. Later, they have sex in a rowboat, before going through the rapids. The bad guys eventually catch up with our heroes and tie them to stakes in the desert.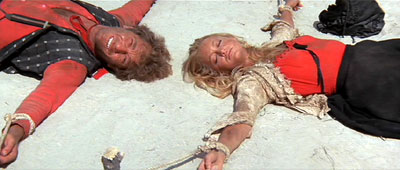 Finally, everything works out for the best, but I forgot if they get to keep the money or not. Costume-wise, the movie is heavy on red and black. The costume designer must have been a big Stendhal fan, I guess. One highlight of the movie is when Goldie sings a bawdy song called "Please Don't Touch Me Plums" with a bunch of kids, Julie Andrews style. Fans of Bobby Vinton should also like the sappy theme song, "Lemon Drops, Lollipops And Sunbeams."
Consider me not one of Bobby Vinton's fans. Nor am I a big fan of The Duchess and the Dirtwater Fox, which I gave two stars on the Neflix scale. Goldie's performance was a standout (she was nominated for a Golden Globe). But the chuckles in this screwball comedy were too few and far between, and couldn't overcome the generally mediocre script.

Foul Play, 1978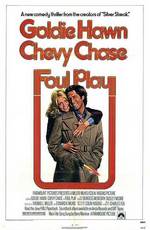 This is the first of Goldie's two romantic comedies with co-star Chevy Chase. It's also an homage to the Hitchcock thriller The Man Who Knew Too Much, which is one of my favorites.
Despite his work in the classics Caddyshack, Vacation and Fletch, I've never really warmed up to Chevy Chase. I'm not quite sure why. In Foul Play, he's a San Francisco detective who protects Goldie Hawn from a gang of assassins out to kill the pope. I suppose people thought Chevy was sexy in those days, but he does nothing for me. Still, the romantic scenes between him and Goldie happen to be the most convincing of any movie she'd done so far.
Goldie's part was a complete 180° from her character in Duchess. In Foul Play, Goldie is a 30-something divorcee who's cute but dissillusioned by the dating scene and looking down the barrel of spinsterhood. She actually reminds me a lot of Meg Ryan's character in When Harry Met Sally, even down to the oversized 80's glasses.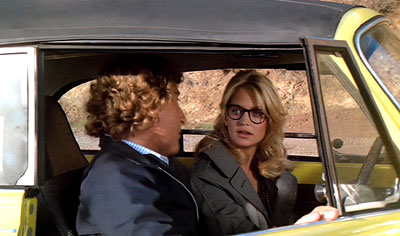 There's not much to Goldie's character; she's kind of an everywoman who's only purpose is to hold the silly plot together. I can't help but like this movie though, despite it's myriad flaws. It's the supporting cast that makes Foul Play as enjoyable as it is. Look who else is in it: Brian Dennehy, Burgess Meredith, Billy Barty and Dudley Moore. (All are dead now, by the way. And don't tell me Brian Dennehy is still alive. You and I both know that Brian Dennehy and Brian Keith are/were the same person.)
Two scenes are absolutely worth the price of the rental. The first is the legendary American debut of Dudley Moore, which is the one scene everybody probably remembers most. While Goldie is trying to hide from a villain known only as "the albino," she asks Dudley Moore to take her back to his place. He misunderstands, thinking he's going to get lucky. It's rotfl funny, with Dudley's valentines day boxers, and the disco ball, and the helium filled blow-up dolls, and the murphy bed with its little trumpet fanfare. That one scene propelled Dudley Moore to stardom, and the next year he did 10 with Bo Derek.
Here's an interesting bit of Dudley Moore/George Segal trivia, which I got from IMDb.
[Dudley Moore was] the first choice to play Henry Fine in "The Mirror Has Two Faces," only to be replaced by George Segal (who was, ironically, replaced by Moore in the role of George Webber in "10"). In an interview following his announcement that he had supranuclear palsy, he revealed that he was dismissed from the role because he had trouble remembering his lines.
The second most memorable scene in
Foul Play
is when Burgess Meredith kicks the villainess's ass in a kung-fu fight. That's pretty much all I need to say about that crazy scene.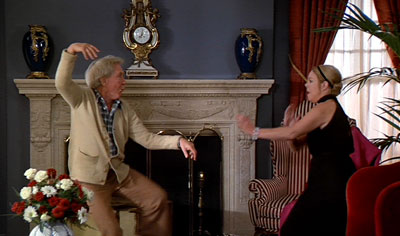 I did run into a little suspension of disbelief issue when Chevy and Goldie were racing through San Francisco trying to get to the Opera House in time to foil the assassination plot. They seemed to be driving through all the wrong neighborhoods. Maybe I know the City too well, but I was like: "Dude, it ain't that hard. Just take Gough, you'll get there in five minutes."
The costumes weren't all that hot. Goldie wears a lot of nondescript solid color sweaters. She ends the movie in a disco era powder blue décolleté that I don't like at all. The music however, was a strong point for me. Barry Manilow sings the Oscar nominated theme song and, as you know, I love Barry. Plus, Gilbert and Sullivan's The Mikado is featured throughout.
I'm giving Foul Play three Netflix stars. It made me laugh a lot more than it had a right to. But the characters are lovable, and it definitely succeeds as fun and light entertainment.
Previous installments in the 1st Annual Annika's Journal Film Festival can be found here. I have three more to go. Next up, Seems Like Old Times.
Update: Congratulations to Goldie Hawn, who recieved the American Film Institute's Star Award in Aspen last Saturday. She's still hot.
Posted by annika, Mar. 18, 2006 |
TrackBack (0)
Rubric:
Let's Go To Hollywood