The First Annual AJFF: Goldie Hawn, Part Four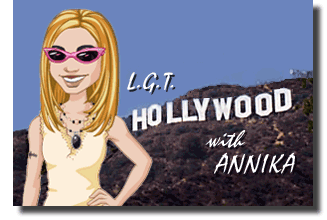 Shampoo, 1975
Yes, the biggie, the classic. There's a lot to say about Shampoo, and a lot of good stuff has been written already.
In my view, this was a transitional movie in Goldie Hawn's career. She was thirty when the film came out. As Warren Beatty's girlfriend Jill, you still see the cute vulnerable waif from her previous comedies, but you also see flashes of the more assertive Goldie Hawn characters of the eighties and nineties. There's even a hint of that whininess she later honed to perfection in Bird On A Wire, Overboard and Private Benjamin.
Make no mistake, Shampoo is a Warren Beatty - Julie Christie vehicle, and Goldie is a supporting player.* But she had definitely arrived by 1975, and being cast in this film was merely proof of the fact.
Shampoo is another bedroom farce, but a vastly different one from Cactus Flower. Although set in 1968 (election day to be exact), Shampoo is a movie of the Seventies, or more accurately, that part of the Seventies which inspired the phrase "The Me Decade." Instead of slamming doors, each peccadillo is punctuated by a shot of Beatty tearing across Beverly Hills on his little Triumph 500.
Shampoo is about fucking. As much as each character can get away with. It's a very pre-aids movie. For a script that took eight years to write ― and the writing process was contentious at times ― there's not much of a plot. In a sense it's very much like a Dazed And Confused for the over 30 set. All the action takes place within about a 48 hour period. Beatty plays a vacant hairdresser juggling at least three women at the same time. Goldie is his easily manipulated girlfriend. Julie Christie plays an old flame who's also Goldie's best friend. And Lee Grant plays a client who's giving him a little something something on the side. Grant won an Academy Award for the role.
I must confess I didn't like Shampoo at first, mainly because I'm not a big fan of Warren Beatty. I hated Bullworth and Dick Tracy. And I was ambivalent about Bugsy, although I thought Splendor In The Grass and Reds were fantastic. But Shampoo has grown on me with each viewing. What it lacks in plot, it makes up in great lines. Like these:
GEORGE: Ever listen to women talk? I do till it's running out my ears. They only talk about one thing, How some guy fucked them over. That's all that's on their minds.
Lol. I hate to say it, but that's true in many cases. Not
mine
of course.
Here's some more classic dialogue. Lorna is the teenage daughter of one of the women Beatty's character is banging. She's played by Carrie Fisher in her first feature film role. I love this banter.
LORNA: Are you gay?... baked apple?... they're cold but they're good.

GEORGE: No thanks.

LORNA: Did you hear me?

GEORGE: Yeah.

LORNA: Well, are you? Are you queer?

GEORGE: yeah.

LORNA: (laughing) C'mon, are you or aren't you?

GEORGE: Gee, this is great.

He slices a piece of cheesecake. Lorna sits down, in the
chair nearest him now.

LORNA: C'mon, tell me. Don't be afraid.

GEORGE: Why do you wanna know so bad?

LORNA: See if you've been making it with my mother.

GEORGE: What would my being a faggot have to do with that?

LORNA: (shrugs) Nothing, I guess... have you ever made it with a guy?

GEORGE: Have you ever made it with a girl?

LORNA: I asked you first.

GEORGE: Yeah... I've made it with a girl...

Lorna smiles. A pause.

LORNA: Well, are you?

GEORGE: Am I what?

LORNA: Making it with my mother?
They end up screwing, of course.
There's two or three scenes with Goldie that blew me away. The first that comes to mind is a short scene when Goldie is walking home from an audition, and stops at a fruit stand. It shows the actress's maturation from a comedienne who delivers lines with great timing, to an actress who can show her inner dialogue without speaking a line.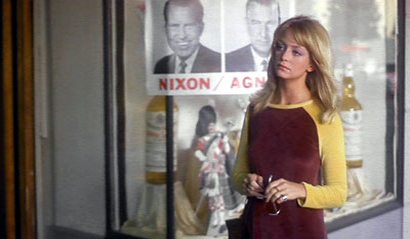 You know she's obsessing over her fight with George, and whether or not to take that acting job, and you can see it all in her face, along with her character's indecisiveness and insecurity. Then she picks up an apple, and for just a moment, you watch her agonize over whether to buy the apple or not until she finally tosses it back in the bin. It's really hilarious.
The shot below is from another scene I love. It shows Goldie just after she got out of a porsche at the election night party, and her boyfriend Beatty is there escorting her best friend into the restaurant. Goldie shoots him a look that is pure daggers. And Beatty has this look like, "oh shit, this is going to be a long night." And it was.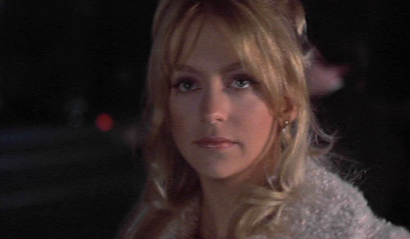 By the way, the silver dress she wore for that election night party was simply adorable, and about as short as legally possible.
There's another great scene at a psychedelic party on a large Beverly Hills estate. Jack Warden's character and Goldie's happen to bust in on Warren Beatty and Julie Christie while they're fucking in the poolhouse. Julie Christie plays Warden's mistress, and Goldie's best friend, so you can imagine both of them are horrified at this discovery. But their reactions are the exact opposite of what you'd expect. It's a terrific scene.
My rating was three stars (liked it), definitely worth a rental. Next up on the AJFF: The Duchess and the Dirtwater Fox.
_______________
* Goldie also starred opposite Warren Beatty in 1971's Dollars. Unfortunately, that film is not yet on DVD, and therefore Netflix doesn't carry it.
Posted by annika, Mar. 9, 2006 |
TrackBack (0)
Rubric:
Let's Go To Hollywood